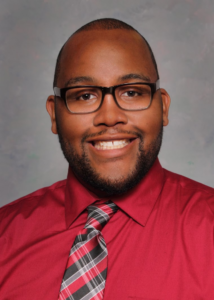 Name: Na'il Scoggins
Denison Graduation Year: 2017
Denison Major: Biology
Graduate/Professional School: pursuing an MD degree at the Medical College of Wisconsin, class of 2020
Contact me: scoggi_n1@denison.edu
What is the focus of your graduate/professional school and what content has most engaged you?
The focus of medical school is to learn how to fully care for patients through medical knowledge, cultural competency, patient advocacy, and interprofessional collaboration. Thus far in medical school, I have enjoyed the opportunities to interact with patients because it is a skill that we get to develop in clinics and the community. I also really enjoyed our clinical anatomy course. Each year, people sacrifice their bodies so that we can practice the art of dissecting to learn about the human body. Last, I enjoy the opportunity to problem solve. We have various opportunities to work alongside our classmates or physicians, before the clinical years, to solve through complex patient cases to provide the best care for them.
Describe the process you went through while selecting your graduate or professional school pathway: what impacted your decision?
A number of factors went into me selecting the my current school, the Medical College of Wisconsin (MCW). First, I wanted to choose a school that supported me as an underrepresented medical student. I participated in diversity pipeline programs from 2012-2017 at MCW so I knew I would be institutionally supported as a minority student. I also became part of the Student National Medical Association, a student-led organization that focuses on supporting underrepresented (pre)-medical students and creating culturally-competent physicians. Second, I wanted a school that allowed me to supplement my education in the first two science years with some clinical experiences and community involvement. MCW is part of a medical campus that includes Froedtert Hospital, Children's Hospital of Wisconsin, and other specialty clinics, which are places I can volunteer or shadow physicians. I am also part of an Urban & Community Health pathway that allows me to volunteer in medical and non-medical ways in Milwaukee. Third, I knew that medical school would be more rigorous than college. Therefore, I wanted to attend medical school in my hometown so that I could have family support on this academic journey.
What challenges did you face on the way to graduate or professional school, and how did you overcome them?
My first challenge was having to study for the MCAT the second semester of my junior year while also taking a full course load at Denison. I had a lot of late nights but pulled through the semester. In the end, I did not have to retake the MCAT so I received my score in good enough time to be a competitive applicant. Finances were also a challenge, with applications, travel, and lodging costs for interviews. I overcame some financial costs by qualifying for the Fee Assistance Program through the AAMC, funds through Denison's Knowlton Center for Career Exploration, and asking medical school students to host me for interviews. Also, since prerequisites are slightly different between schools and it gets hard to keep track of schools and where you stand in the application process, a way I stayed organized was creating an Excel document with all this information in one place. Another challenge I had was not receiving adequate information early in my college career about the process of applying to medical school. Since I was a first-generation student, I overcame this by relying on my network of friends I made through MCW's pipeline programs who had completed the medical school application process.
What are your professional plans post-graduation?
I plan to enter a residency program. I aspire to be a pediatrician but I am open to exploring other fields of medicine.
What advice would you give a current Denison student considering a graduate or professional program like yours?
First, plan your schedule in a way that does not give you such a heavy course load while studying for the MCAT. Second, try to determine as early as possible whether you intend on being a traditional student (entering medical school directly after college) or taking a gap year(s). This will help you plan out your timeline to medical school better. Third, continue shadowing physicians and other health professions to make sure that being a physician is a career you want to dedicate your life to. Fourth, remember that you do not major in the sciences as long as you finish all the pre-med requisites. If you are not passionate about the extra science classes, you do not have to take them. However, it is more convenient because the pre-med requisites fit into science majors easier. Fifth, continue doing things that foster community and build relationships. Medical knowledge is important for being a physician but if you cannot make a patient feel comfortable enough to let you into their lives, the rest does not matter. Last, keep doing the things that you enjoy. Medical school is very stressful and there is even less time to do what you enjoy.