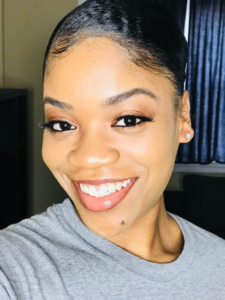 Name: Khadijah Hawkins
Denison Graduation Year: 2016
Denison Major: Psychology
Graduate/Professional School: Accelerated Bachelor of Nursing (BSN) from Gwynedd Mercy University, class of 2019
Contact me: Hawkins.K@gmercyu.edu
What is the focus of your graduate/professional school and what content has most engaged you?
When searching for nursing schools, I focused on affordability, being close to home, the curriculum and student-teacher ratios. These four categories were so important to me because I knew I wanted to be an low-stress environment and not being able to pay for school and being away from family/friends is a major stressor! I love the challenges of nursing school. It is fast-paced and rigorous yet so rewarding! Nursing school equips you with the skills to make an impact in someone's life and that is exactly what you are learning to do each time you step into a hospital, long-term care facility or a home.
Describe the process you went through while selecting your graduate or professional school pathway: what impacted your decision?
I applied to two nursing schools out of the nine that I looked into. I was rejected by one and accepted by the other. I made an excel sheet of all the schools that I took interest in and made a list of tuition and fees, location, transportation, extra expenses (books, uniforms), student-teacher ratios, the school's reputation and more. It is so important to have a spreadsheet with all options laid out on the table because it is much easier to eliminate schools that are just too far out, too expensive, etc. Another tip I would give is to attend the open house and ask current students about the program! They will give you the "real".
What challenges did you face on the way to graduate or professional school, and how did you overcome them?
I was faced with the challenge of moving state to state, finding housing and just actually living on my own as an adult. It is different but definitely worth it! Denison taught me all the skills I needed to thrive as a adult in the post-graduate world. I was scared but I knew I could do it and I did!
What are your professional plans post-graduation?
Currently, to graduate nursing school in 2019 and land my first choice RN position at Children's Hospital of Philadelphia as a Neonatal Intensive Care Unit (NICU) nurse!
What advice would you give a current Denison student considering a graduate or professional program like yours?
Ask questions, research your schools and make an excel sheet, be realistic about what schools you qualify for but don't be afraid to apply to 1-2 where you wouldn't be the "average candidate". Also, set up meetings with current students and have lunch with them to go over the pros and cons of the program. Experience the school for yourself (attend open house if possible). Never take someone's word for it. Always make your own choice!