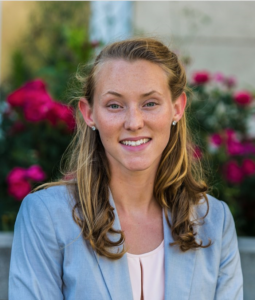 Name: Katelyn Benson
Denison Graduation Year: 2016
Denison Major: Biology
Graduate/Professional School: pursuing a MD (class of 2022) and has completed a Master of Public Health (MPH) at the University of Buffalo
Contact me: benson_k2@denison.edu
What was the focus of your graduate/professional school and what content most engaged you?
In graduate school for public health, I studied health behavior and community health. I was most engaged in linking homeless populations in Buffalo, NY to health care, as well as pilot study that integrated behavioral health and primary care services. I was excited to study the sociocultural factors that influence decisions surrounding wellness and healthcare. Next, I will begin medical school.
Describe the process you went through while selecting your graduate or professional school pathway: what impacted your decision?
A number of factors influenced my application decisions, but a few standout factors most impacted my experience in school. These were location and faculty interest. My graduate program was smaller, which allowed faculty to dedicate ample time to student interests. It was great to match with a faculty advisor who had similar research interests and extensive experience in the field. Location is particularly important in public health because of the practical field work tied to the degree. In Buffalo, local agencies lead essential public health programs that students are able to work within.
What challenges did you face on the way to graduate or professional school, and how did you overcome them?
Finding my specific passion was the biggest challenge I faced during my two years masters degree. When I started, I was interested in health care access and mental health. I found that these two areas are entirely too broad. To narrow my focus, I got involved in a couple different projects right from the start. From there, I was able to determine which aspects of the work sparked my interest and aligned best with my career goals. For me, this was direct communication with study participants and community members. For others, it may be more data analysis or public policy oriented.
What are your professional plans post-graduation?
I will be starting medical school soon. Upon graduation, I hope to practice medicine in a primary care field while maintaining a role in health care access for vulnerable populations.
What advice would you give a current Denison student considering a graduate or professional program like yours?
If you are considering a career in public health, it is important to realize that it is an enormous field. Take time to consider your strengths and read about the various disciplines to see what might be right for you. From health services administration to infectious outbreak investigation, there is a specialty for anyone who wants to play a role in improving general health and wellbeing.