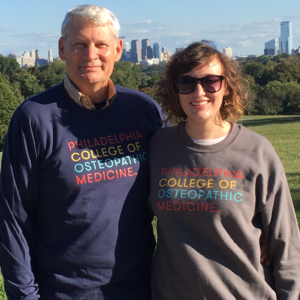 Name: Liza Haggenjos
Denison Graduation Year: 2017
Denison Major: Biology
Graduate/Professional school: pursuing a Osteopathic Medicine (DO) degree at Philadelphia College of Osteopathic Medicine, class of 2021
Contact me: lh245989@pcom.edu
What is the focus of your graduate/professional school and what content has most engaged you?
In medical school, so far, I've enjoyed how applicable anatomy is when learning our systems based blocks. The relationship between structure and function helps when learning physiology. It also helps with our OMM course to visualize the muscles in the body.
Describe the process you went through while selecting your graduate or professional school pathway: what impacted your decision?
My junior year, I studied for the MCAT and took it in April. Then I researched the essay questions for the primary applications while asking mentors and faculty for letters of recommendation so as to have everything written and polished to submit my primaries as soon as possible. I subsequently did the same for my secondaries. After all that, my decision came down to location -did I get accepted to a place I wanted to live? I knew I wanted a DO program and I applied to those I wanted to be a part of.
What challenges did you face on the way to graduate or professional school, and how did you overcome them?
Medical school is always hard and is even harder when students don't seek help for whatever their problems may be. During my first semester, I felt like I was falling behind and worried it would impact my performance. In response, I made an appointment with a professor and discussed how I can improve. The faculty at medical schools have seen everything and genuinely want their students to succeed.
What are your professional plans post-graduation?
Residency, likely in primary care.
What advice would you give a current Denison student considering a graduate or professional program like yours?
First, shadow medical professionals or get as much clinical experience as possible to gain a good foundation of medicine in the US. Second, develop a good schedule to accomplish school work but to also build in time to relax.