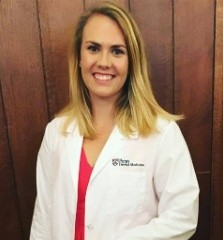 Name: Liz Bailey
Denison Graduation Year: 2015
Denison Majors: Biology (BS) and English (BA)
Graduate/Professional School: completed a MS in Biology from Northern Arizona University in 2017 and currently pursuing DMD at University of Pennsylvania, class of 2021
Contact me: 123eab@gmail.com
What was the focus of your graduate/professional school and what content most engaged you?
I have just finished my first year of dental school at Penn. I particularly like that dental school is a mix of both art and science. Didactic work focuses on curriculum similar to medical school, while the lab work prepares you for common clinical procedures in general dentistry. I enjoy working with my hands in lab, interacting with patients in the school clinic, and learning about the interactions between oral and systemic health.
Describe the process you went through while selecting your graduate or professional school pathway: what impacted your decision?
Sometimes figuring out what you don't like can be extremely insightful and guide you towards what you do like! After Denison I attended a Master's program in Biology. I realized a few months into my program that a research career was not for me. I explored other career options while in school by shadowing multiple professionals. Shadowing helped me better understand the challenges and rewards of many different professions and confirmed that dentistry was the path I wanted to pursue.
What challenges did you face on the way to graduate or professional school, and how did you overcome them?
Applying to dental school while in the middle of my Master's program was very demanding, but having a timeline and checklist helped me accomplish what I needed to while still in school and working a second job. The fact I had already completed undergrad and could not continue taking prerequisite classes during the application process made my process slightly different. Because of the structure of Denison's chemistry curriculum, I was limited in where I could apply to dental school. Most programs require two semesters of general chemistry and two semesters of organic chemistry. I had only taken the three semester chemistry sequence as an undergrad. After contacting many programs with my transcript to determine which chemistry class they thought I was missing, I decided it was easiest for me to apply to the limited number of programs that only required three semesters of chemistry.
What are your professional plans post-graduation?
I hope to pursue a career in general dentistry after I graduate in 2021!
What advice would you give a current Denison student considering a graduate or professional program like yours?
My first piece of advice is to find something you love to do that isn't academic or motivated by needing something that "looks good on an application." The process of applying to school can be stressful, but having something you enjoy doing gives you "work/life balance" and will keep you sane (both during the application process and later on in any type of professional program)! During my interviews, I was always asked about my hobbies and how I managed stress. Find something you genuinely enjoy! Your career is not your entire life and applying to school shouldn't be either. In terms of the actual application process, have a rough idea of where you may want apply, because this can impact what required courses you take at Denison. Each school has its own set of required classes. The chemistry requirements can be particularly difficult to match, so talking with the schools you want to apply to early can help you determine what classes you may be missing. Also, consider joining a local ASDA pre-dental chapter or start one on campus if there isn't one! Student Doctor Network is also really helpful when researching schools and getting answers to questions you have about the process. Finally, shadowing was extremely helpful for me and you will also need hours for your application. Shadowing helped me better understand the pros and cons of the career and allowed me to see how different dentists and specialists tailor their practices to fit their lifestyle and goals. I suggest shadowing at multiple practices too, because no two practices (or even corporate offices) are alike. Best of luck and feel free to contact me any time if you have questions or want to chat!