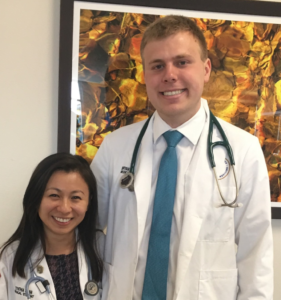 Name: Bryan Margaria
Denison Graduation Year: 2016
Denison Major: Biology
Graduate/Professional School: Pursuing a DO degree at Burrell College of Osteopathic Medicine, class of 2020
Contact me: margar_b1@denison.edu
Describe the process you went through while selecting your graduate or professional school pathway: what impacted your decision?
I did the pre-medical track at Denison, with a major in Biology. I focused on plant biology primarily. I chose to go into medicine based on my experiences as a medical assistant and clinical research (during my first year and sophomore summers), and through mentorship I got from professors such as Dr. Hauk, Dr. Kuhlman, and Dr. McCall. Additionally, I knew from my introductory courses in chemistry and biology that I had a strong passion for the sciences.
What challenges did you face on the way to graduate or professional school, and how did you overcome them?
A challenge for me throughout my time at Denison was time management. I was involved in many areas of campus life such as playing on the soccer team, being a resident assistant/head resident, and holding various leadership positions such as in DCGA. I struggled at times to find enough time to study; I overcame this by learning how to make the best use of all the time available in the day. I had a schedule I stuck to daily, and made sure to do my homework in all the gaps in between.
What are your professional plans post-graduation?
I plan on specializing in some form of medicine such as oncology, neurology, or anesthesiology.
What advice would you give a current Denison student considering a graduate or professional program like yours?
My first piece of advice would be to focus on building strong study habits throughout your time at Denison. Denison will provide a challenging and rigorous undergraduate education; take advantage of it! Building strong study skills such as discipline and dedication will go a long way in preparing you for medical school. Learning how to manage your time will also pay dividends in the future. Do not forget to have fun as well! Denison was some of the best times of my life; live your life to the fullest and enjoy the time you have. My second piece of advice would be to have a well rounded application. Experiences such as being involved in leadership activities and hands on experiences such as research really help boost your chances of getting into medical school. Grades and MCAT scores are important, but being a well rounded applicant will set you apart in the process. Finally, take the time to figure out if going to medical school is the right move for you. To give you an idea of what a day in the life of a medical student is like: wake up at 7 am, attend class (or watch lectures online) from 8 to 3, then frantically study from 3 to 12 pm or later. This schedule becomes even worse when you start studying for board exams. There is time for some fun, but only after exams every couple weeks. Many times parents will encourage their student to follow the premedical track when the reality is the student would prefer to be doing something else. Follow your passions! Denison offers amazing programs in many different disciplines. Medical school is among the toughest academic environments on the planet; you have to love what you are doing or you will struggle.