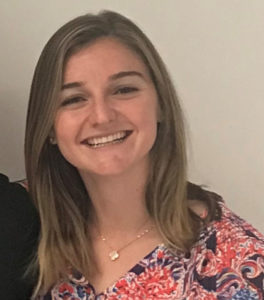 Name: Logan Berlet
Denison Graduation Year: 2016
Denison Major: Psychology
Graduate/Professional School: Clinical Doctorate in Occupational Therapy (OTD) from Washington University in St. Louis, Class of 2019
Contact me: lberlet15@gmail.com
What is the focus of your graduate/professional school and what content has most engaged you?
I am currently in my last year of my clinical doctorate degree in Occupational Therapy (OT) at Washington University in St. Louis. In our OT program we have the opportunity to get exposure to many areas of practice through clinical experiences (fieldwork), research experiences, and classroom clinical exposure. I am specifically very interested in the hand therapy area of practice within occupational therapy, so I am currently completing my doctoral research in hand therapy, mentoring students in a student-run hand therapy clinic, and have completed one of my two 12-week clinical experiences (fieldwork) in hand therapy. Despite my interest in hand therapy, I am very grateful that I have had exposure to other areas of practice through clinical experience in the program, including acute care, pediatric therapy, inpatient rehabilitation, mental health, and other areas of the field.
Describe the process you went through while selecting your graduate or professional school pathway: what impacted your decision?
After my freshman year, I knew I was very interested in psychology, education, and healthcare. However, I wasn't sure if I could find a career that incorporated all of my areas of interest. My cousin is an occupational therapist, but at the time I had no idea the field of occupational therapy existed. Quite a few members of my family work in various aspects of healthcare, so I began to ask them about what they did and how they got there. When I talked to my cousin, she explained to me that she worked as an occupational therapist in an outpatient neurology clinic working with patients who had undergone a stroke or had other neurological conditions who were having difficulty with various activities in everyday life. She explained to me that occupational therapy involved working with patients to get them back to doing the activities they do on a daily basis (occupations) and that an occupational therapist gets to use knowledge of medical conditions (anatomy, physiology, etc.), creativity, an understanding of people, and education to help individuals get back to the things they want and need to do every day. This conversation really peaked my interest, so that summer I shadowed at an outpatient pediatric clinic working with younger children with developmental delays. That summer I got to shadow two licensed occupational therapists as they evaluated children and worked with them to get them back on track with their developmental milestones.
What challenges did you face on the way to graduate or professional school, and how did you overcome them?
Once I decided I wanted to pursue graduate school for occupational therapy, I had to find a mentor who understood my career and graduate school goals. This was challenging because I couldn't find a lot of people that knew about the field I was interested in and there were not many alumni that I could find who followed the path to graduate school in occupational therapy. Eventually, I found Dr. Gina Dow and worked closely with her for three years at Denison to make sure I was getting experiences that would be beneficial before entering an occupational therapy graduate program. Dr. Dow helped me to determine classes I would need to take both at Denison and during the summer to meet application requirements and helped me to gain experience with individuals in the community she knew. I worked with Dr. Dow for an independent study my senior year focusing on Transition to Independent Living for Developmentally Disabled Adolescents and got exposure to a lot of individuals in the community. Denison did not offer some of the courses I needed for application requirements, so I took a few of them when I studied abroad in New Zealand, took a few courses over the summer, and got creative with the independent studies I completed at Denison.
What are your professional plans post-graduation?
I currently have one academic semester left in St. Louis, which includes mentoring and teaching experiences, and then I will complete my second 12-week clinical experience in inpatient rehabilitation in Colorado and complete my doctoral experience in advanced clinical practice with a focus on upper extremity amputation and prosthetic rehabilitation. I would love to get my first job in hand therapy, but that can be difficult as a new graduate, so I am open to starting my OT career in another area of practice. Overall, I am so happy I chose a field that encompasses all of my interests and allows movement across areas of practice. After graduating with my OTD and passing my board certification exam, I will be qualified to work in almost all areas of OT practice, which opens up a lot of opportunity.
What advice would you give a current Denison student considering a graduate or professional program like yours?
I'll start off my advice with a funny story: I remember talking to somebody at the career center at Denison at the beginning of my sophomore year to find out as much information as possible about occupational therapy. I learned about a 3-2 program with Washington University in St. Louis in which I could complete 3 years of my undergrad degree at Denison and then finish requirements for my Masters in Occupational Therapy at Washington University. I remember thinking to myself that I did not want to join this 3-2 program because it would limit me to just one graduate school and I wasn't sure if I wanted to move to St. Louis, MO. Ironically enough, I ended up at Washington University after all that and have had an amazing experience here. So, my advice after this story is that for graduate school, specifically OT, you end up going to school where you get in. Unfortunately, you have a lot less choice when it comes to these programs because they are competitive. Another piece of advice would be to try to get shadowing experience in a variety of areas of practice within occupational therapy. Try to shadow in pediatrics, in a hospital, in a nursing home, in a hand therapy clinic, or other areas locally. Getting a variety of shadowing experiences will really help you to understand the field of occupational therapy better and set you up for success when applying to OT school. I am happy to answer any questions you may have about occupational therapy or occupational therapy graduate school, so please don't hesitate to reach out.