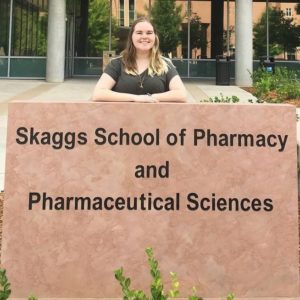 Name: Lauren Thompson
Denison Graduation Year: 2018
Denison Major: Biochemistry, Mathematics (minor)
Graduate School: PhD in Pharmaceutical Sciences from the University of Colorado Anschutz Medical Campus, Class of 2023
Contact me: thomps_l1@denison.edu
What is the focus of your graduate/professional school and what content has most engaged you?
I am in a Pharmaceutical Sciences PhD graduate program. While the classes are fascinating and challenging, I most enjoy my time in the lab. My program has us rotate through 3 different labs in our first year so I'm getting experience working with cell lines, mouse models, and patient clinical data.
Describe the process you went through while selecting your graduate or professional school pathway: what impacted your decision?
For me, the interviews were vital in really getting a feel for a program. In talking with the students and faculty, I was able to tell where I would fit in. Additionally, it was important to me that whichever program I chose had multiple labs that I was interested in. This way I would have a chance to rotate and make the best decision for myself.
What challenges did you face on the way to graduate or professional school, and how did you overcome them?
I had spent the first 22 years of my life surrounded by friends and family in Ohio. Graduate school was my first time going off on my own. While this is certainly challenging, my parents have been very supportive, especially with the big move (21 hours of driving!). Living alone in a new state is certainly scary but the other students in my program have been a great resource and I've even connected with some old Denison friends!
What are your professional plans post-graduation?
I've only just started my program so I'm not entirely sure yet but I'll likely end up in pharmaceutical industry. If not, I could definitely see myself running a research lab in an academic institution.
What advice would you give a current Denison student considering a graduate or professional program like yours?
Talk with other students who have been there! Don't be afraid to reach out to Denison connections and even faculty members at programs you're interested in. They're surprisingly approachable and it can help your chances at getting an interview! Also, the absolute best thing to prepare yourself for graduate school is your lab experience. Get involved on campus, look for summer programs in fields you're interested in (I did a couple in Pharmacology & Pharmaceutical Sciences labs off campus), and make sure you really understand your previous research and can talk about it!