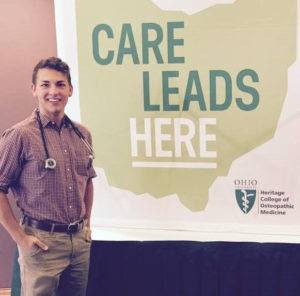 Name: Ryan Vagedes
Denison Graduation Year: 2017
Denison Major: Biology, Spanish (minor)
Graduate School: DO from Ohio University Heritage College of Osteopathic Medicine, Class of 2021
Contact me: rv1581616@ohio.edu
What is the focus of your graduate/professional school and what content has most engaged you?
he focus of OU-HCOM is developing primary care physicians practicing in underserved communities in Ohio. The most engaging thing for me at OU-HCOM has been being able to explore public and global health. I was able to combine my experiences from Denison (studying Biology and Spanish) and translate them into developing intentional global health research in medical school. Because of Denison, I was able to develop and be the lead investigator on an international research project focused on understanding social determinants, HIV transmission, and care received by people living with HIV/AIDS in urban and rural communities in Ecuador.
Describe the process you went through while selecting your graduate or professional school pathway: what impacted your decision?
I knew I wanted to go to medical school since I was pretty young. From my experience shadowing physicians in different specialties as well as seeing my sister go through medical school, I wanted to attend an osteopathic medical school. Why osteopathic medicine (DO)? There's a strong emphasis on preventative medicine and primary care, promoting wellness, and focusing on the interconnectedness of the body and mind, taking a "whole person" approach. In addition to taking all the same classes as allopathic medical schools (MD), you take an additional courses in osteopathic manipulative treatment (OMT) which is a form of manual medicine (think physical therapy) than can help diagnose and aid in the treatment of different medical conditions.
What challenges did you face on the way to graduate or professional school, and how did you overcome them?
During your first year of medical school, it is a lot like transitioning into college. You have to rethink the way you learn and how you study. While the material you learn is not harder than at Denison (in many cases, it is actually easier), the pace at which you learn is very different. Things move a lot faster. Each medical school lecture usually covers the amount of material in about 3-4 undergraduate lectures. Being proactive (rather than reactive) in your learning is what helped me adjust to medical school. Reaching out to second year students, using all the resources you have available, and getting tutoring when you think you need it is how you succeed. There is no shame in asking for help.
What are your professional plans post-graduation?
Right now, I am interested in going into general internal medicine and splitting my future practice into inpatient hospitalist work and outpatient primary care. I want to practice in a medically under-served area. I am also interested in public health, social medicine research, and practicing internationally (e.g., Doctors Without Borders). If I can find someway to combine all that together, that is what I want to do!
What advice would you give a current Denison student considering a graduate or professional program like yours?
If you are thinking about going to medical school (or really any health profession), I suggest to shadow some professionals to get a sense of what the practice of medicine is like in whichever field interests you. If you are not sure if you are competitive for a certain program/school, call them! You can call or email the admissions office of nearly any school and ask them what kind of applicants they accept (e.g., MCAT scores, GPA, research, volunteering, etc.). I scheduled a meeting with an admissions officer and brought my resume. We chatted about what kind of applicant I would be and how to be more competitive. The best advice someone can give you about being competitive for medical school are the people who accept you to medical school. Overall, I think osteopathic medicine is very much a continuation of the the liberal arts philosophy at Denison. When looking at applying to medical schools, keep osteopathic medicine on your radar. It is a rapidly growing field. Now, about one in four US medical students attend an osteopathic medical school. If you ever have any questions, I can do my best to answer them. Find me on LinkedIn, and we can chat from there.