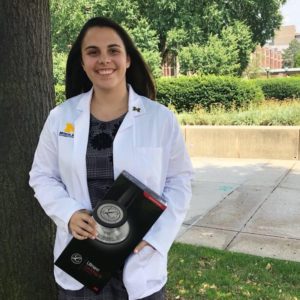 Name: Hannah Glick
Denison Graduation Year: 2018
Denison Major: Biochemistry
Graduate School: MD at the University of Michigan, Class of 2022
Contact me: glickhh@umich.med.edu
What is the focus of your graduate/professional school and what content has most engaged you?
he focus of my program is training to become a medical doctor. I am currently in my M1 year at the University of Michigan. In our program, we have a condensed curriculum meaning that we only have one preclinical year and we go to the wards to do our clinical rotations starting our M2 year. The first few months of school we learned foundational material that covered biochemistry, genetics, immunology and diagnostic therapeutics. We are currently learning the normal physiology and abnormal pathophysiology associated with all the organ systems of the body. Additionally, we have year long courses, some of which focus on things like inter-professional experiences, biostatistics and diagnosing chief concerns and communication and physical exam skills. The content I find most engaging right now is learning about all the different pathological states that can occur in the human body and how medicine has evolved/is currently evolving to treat or cure different disease states.
Describe the process you went through while selecting your graduate or professional school pathway: what impacted your decision?
The University of Michigan Medical School was always my dream school for many reasons. One reason is the condensed curriculum. Whereas many schools have 1.5-2 preclinical years, we get to go into the wards and start interacting with patients very early on, even before we take our first board exam. Another thing that impacted my decision was location. Being from Ann Arbor, I was so excited to get back home and be close to my family. Medical school is hard and taxing, one of my biggest stress relief activities is going to the gym with my mom or going home and playing with my dogs!
What challenges did you face on the way to graduate or professional school, and how did you overcome them?
I think some of the most difficult parts of my road to medical school were because of mental health issues or issues where I 'failed' at something. I've always been very hard on myself so every exam I took at Denison really mattered and I really stressed myself out. There were a few semesters that I thought ruined my chances at getting into medical school because I was struggling with anxiety and depression and my GPA suffered. First and foremost, I had to take care of my mental health, which I did (use Whisler if you need it!). I then bounced back and had my best semesters of college, GPA wise. Once I got to the application process, I decided to use my lower GPA semesters to my advantage and show schools my resilience. I openly wrote about my tough times and showed major GPA improvements in the following semesters while still keeping up with my extracurriculars at Denison like volleyball and research.
What are your professional plans post-graduation?
Although I'm not sure what field of medicine I will enter in to, I hope to pursue a residency at an academic institution like Michigan where I will have opportunities to do research, interact clinically with patients and train the next generation of physicians below me!
What advice would you give a current Denison student considering a graduate or professional program like yours?
There is no direct path to medical school and taking time off is right for you if it's right for you just like going straight through is right for you if it's right for you. The application process is challenging and daunting but take your time and never give up. Always ask for feedback and continue to constantly learn. If you stay humble and ask questions, people will want to help and teach you. Please reach out and email me if you have any other questions!