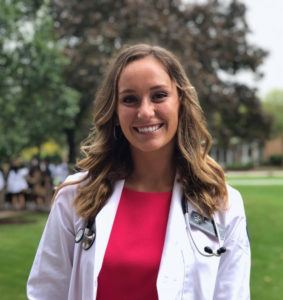 Name: Kristen Brennan
Denison Graduation Year: 2018
Denison Major: Biology
Professional School: D.O. from Midwestern University- Chicago College of Osteopathic Medicine (CCOM), Class of 2022
Contact me: brenna_k1@denison.edu
What is the focus of your graduate/professional school and what content has most engaged you?
While the curriculum at every medical school is different, the focus of my first year of school has been focused on learning the human anatomy, physiology, biochemistry, and also working with standardized patients (actors) to develop my formal interpersonal skills required to be a doctor. Being a student of osteopathic medicine means that all of my classes tie in and demonstrate the role of osteopathy in every condition present. My training thus far has consisted of a lot of hands on work — learning to identify the human body by touch, distinguishing normal from abnormal, practicing osteopathic manipulations and techniques, and ultimately being able to decipher what pathologic process the structural or functional problem is indicating internally on the patient. All of my classes interest me, I love being a medical student. As a first year student, I believe the most engaging component of my schooling is when I can see how every class ties together. I now understand the necessity of all of the prerequisite courses I took at Denison before medical school, as most of my courses now are based upon and pull in material that I learned throughout my time in undergrad. My most engaging medical school moments are when I get to interact with a standardized patient. In these moments, I am being assessed on my ability to take their health history, develop patient diagnoses, and ultimately put knowledge into action.
Describe the process you went through while selecting your graduate or professional school pathway: what impacted your decision?
I have always felt very fortunate that from a young age I knew that I wanted to be a doctor. Every exposure to the profession only reinforced my desire to one day be a physician and for that reason my time was spent more on trying to get into medical school and selecting the one that I found best suited for me. Being an athlete my entire life (Go Big Red Volleyball!), I had my battles with acute and chronic ailments. Chronic back pain plagued my Denison volleyball career and what kept me going was preventative rehab, treatment, and hands-on care. Feeling the massive benefits that this type of care brought me really drew me towards the osteopathic field. My own body was so angry with me, so out of its normal structural alignment, and constantly compensating for the physical toll I was putting on it. Painkillers helped my pain to go away temporarily, but working to counteract those stressors with preventative and targeted physical modalities provided by my doctors, incredible athletic trainers, and physical therapists is what made me better long term. I still keep up with these preventative methods daily, and feel so much better because of it. For that reason, I felt the strong urge to be the type of physician that would emphasize and utilize the body's "normal" structure and function as a roadmap to help make my future patients better.
What challenges did you face on the way to graduate or professional school, and how did you overcome them?
One of the largest challenges I faced on my way to medical school was multifaceted. My challenges stemmed from my desire to "do it all" at Denison. School was my priority; however, I also was a member of the volleyball team, worked for Admissions as a tour guide and a senior interviewer, was a member and held leadership positions in multiple clubs, participated in sorority and fraternity life, and mentored younger students. In addition to these things at school, I had to make sure I was fulfilling the extra service work, research, and shadowing experiences necessary to be a competitive medical school applicant. Almost every minute of my days were planned, I would even pencil in times to eat! I do not regret it for a second because it is what I wanted to do; however, every day presented a new challenge. I think the biggest challenges I faced and that so many other medical school students I have talked with face during their pre-med journey involve sacrifice and fears of inadequacy. Figuring out what to prioritize when everything is important led me to sleepless nights, and sacrificing time with friends and people I cared about. Most days I felt like there simply was not enough time in the day. Throughout the path to medical school you are constantly being evaluated on your grades, extracurriculars, and ability to hold it all together. Daily stressors of not being good enough are present for most pre-med students. I think getting over that fear and being proud and happy with all of the work you put in as a student is one of the biggest keys of success. A positive mindset and a great support system will really get you a long way.
What are your professional plans post-graduation?
While I am unsure of the exact type of doctor I want to be right now, I plan to match into and enter a residency that will provide me the tools and training to go forward and be able to practice independently as a physician for the remainder of my career!
What advice would you give a current Denison student considering a graduate or professional program like yours?
Never give up. If becoming a physician is your dream, make it happen. There will be people who do not believe in you, grades that discourage you, and days that make you wonder if all of the effort is worth it. Go back and think about why you want to be a doctor, ground yourself, and keep pushing forward. While of course I would advise students to do well in school, be involved, and find ways to demonstrate your passions, I do not think that would be the most important advice I could give you. The two most important pieces of advice I can provide are: 1) surround yourself with people who support you and 2) take care of yourself. I am so grateful to have had such an amazing support system including my family and friends, professors and advisors, and even my bosses. This is a tasking journey and you are going to need their hugs and cheers along the way. Never forget to thank them and make time for those people, because at the end of the day that is what is important in life. I will say that while getting into medical school might have been one of the greatest days of my life thus far, the best part about it was being able to share it with the people who helped me to get there, and thank them for everything they did. Secondly, while the support system is so vital — those individuals are, for the most part, not trying to go to medical school. You are your biggest advocate and if you do not take care of yourself first, you are not going to be able to get done what you need to do. Listen to your mind and your body. Take breaks!! Exercise, eat well, drink lots of water, laugh, and make time for the things that make you happy!!!! I cannot stress that enough. Recognize when you need to reach out for help and do just that. Finally, Denison is the best place in the world. My time on the hill grew me into the person I am today. Take advantage of the incredible people and opportunities that Denison provides you. Every member of the Denison community only wants your success. Believe in yourself, be a better you every day, and never give up on your dreams!