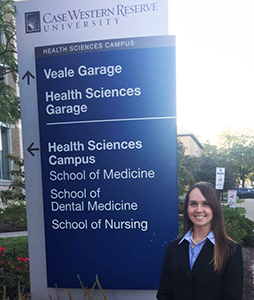 Name: Maria Mancini
Denison Graduation Year: 2016
Denison Major: Biochemistry
Professional School: pursuing an MD at Case Western Reserve University School of Medicine, Class of 2021
Contact Me: mancin_m1@denison.edu
---
What is the focus of your professional school and what content has most engaged you?
I am currently in medical school, which involves not only education in the biomedical sciences and the development of clinical skills, but also engagement in social justice issues and bioethics. Of the medical science topics studied, I favor histopathology because I find it a very beautiful representation of cause and effect, and being able to directly visualize the cellular basis for a diagnosis is incredibly satisfying. However, in considering my medical education as a whole, I most enjoy how it fosters a growth in social and cultural awareness, and it is rewarding to see the positive effects on patient outcomes when these factors are considered in patient care.
Describe the process you went through while selecting your professional school pathway: what impacted your decision?
I chose to attend medical school because my deepest passion in life is puzzles. I've always been drawn to the sciences because of their inherent puzzle-like approach to understanding phenomena. I explored various scientific career paths–interning with and shadowing many areas of healthcare at the Cleveland Clinic, spending several years immersed in research that ranged from organic and analytical chemistry to behavioral ecology, self-studying basic computer programming, and much more–and while research satisfied my need for puzzles, I often felt the human aspect was missing. I enjoyed solving research problems, but I didn't get the satisfaction I got from learning from and attempting to aid the doctors I worked with to really understand a patient. I truly felt at home in medicine.
What challenges did you face on the way to medical school, and how did you overcome them?
I faced a number of challenges including some significant physical and mental health issues as well as personal trauma that stretched me to the limit of what I could cope with. However, these are the experiences that help you become a good doctor. When you understand pain, you are often more sensitive regarding the pain of others. I was fortunate enough that my inner drive and stubborn refusal to quit were strong enough to keep me going. However, given how hard this was on my physical well-being, when treating patients I hope to promote the idea that there is no single definition of success. Sometimes choosing to discontinue the path you are currently on is what is best for you. I believe that is a much healthier attitude to take when approaching challenges.
What are your professional plans post-graduation?
I am currently undecided on a specialty, but I am heavily considering pathology or OB/GYN.
What advice would you give a current Denison student considering a graduate or professional program like yours?
Really use your time in undergrad to perfect your wellness rhythm. Although you may feel as though you are consistently stressed and crunched for time right now at Denison, the amount of information you are given at a time increases by tenfold and the amount of time you must spend studying increases exponentially in medical school. Use this time to figure out how you best study, how you de-stress and take care of yourself, how you plan and stick to your schedule, and basically how you do you. Because if you have this down, you will be much more likely to be able to apply it when things go crazy in med school (i.e. always) and it will significantly protect you from overwhelming anxiety and burnout.