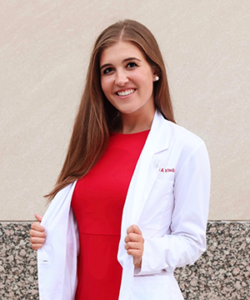 Name: Carol Vitellas
Denison Graduation Year: Class of 2018
Denison Major: Computer Science
Professional School: Pursuing an MD at The Ohio State University College of Medicine, Class of 2022
Contact Me: carol.vitellas@osumc.edu
---
What is the focus of your professional school and what content has most engaged you?
At the OSU College of Medicine, I am most engaged when working with patients. What makes being a medical student at OSU so unique is that during your first month of school, you are paired with a physician and get to work in their practice every other week for 2 years. In my first month of medical school I was taking real patient vital signs and histories, as well as presenting this information to the doctor. At other institutions, medical students usually do not get to work with patients until their 3rd year, so I am very appreciative of this opportunity. The ability to help real patients not only gives me valuable practice with my clinical skills, but it also gives meaning to my schoolwork at times when studying can seem overwhelming and tedious.
Describe the process you went through while selecting your professional school pathway: what impacted your decision?
While at Denison, I had two seemingly conflicting passions: medicine and computer science. I had always known I wanted to attend medical school upon entering college, but accidentally fell in love with computer science during my first semester. Rather than give up one of my passions, I pursued a degree in computer science while simultaneously completing my pre-medical course requirements. I was constantly asked why I was majoring in computer science if I wanted to go to medical school, as the two fields seemingly have little overlap in their application. However, I actually found that computer science opened several unique opportunities to me! One such opportunity was the ability to lead data analysis for a clinical research project in a gene therapy lab at Nationwide Children's Hospital. I also had the opportunity to design an artificially intelligent diagnostic algorithm for breast cancer in my Artificial Intelligence class. Not only were these projects extremely interesting to partake in, but they also provided great talking point for interviews! In fact, my computer science major was brought up in every interview that I attended, and it was really neat to have something to talk about that helped me stand out from other applicants. I would therefore encourage pre-med students to pursue their passions, even if they don't fall within the typical pre-med pathway! Medical schools are interested in you as a whole person, and your unique abilities, talents, and interests will only add depth to your application.
What challenges did you face on the way to medical school, and how did you overcome them?
While I have only received one-semester of medical school education, I have definitely encountered several challenges. The main challenge that I did not foresee was having to completely change the way that I study. Although I have been a high achieving student in the past and had a great handle on how to study in high school and undergrad, medical school proved to be an entirely different ball game. It is not unusual for my peers and I to put in 10-12 hours a day reviewing material. The sheer amount of information forces you to come up with new, more efficient, and quicker ways of studying just to keep from falling behind. Every student that I know in my class has also had to adapt to new study methods this year, and everyone's technique is constantly shifting and evolving, even now that we are in our second semester! My advice to students who are entering medical school would be to be ready for change, focus on what works best for you and not what works best for your peers, and to be patient with yourself as you adjust to this new way of learning!
What are your professional plans post-graduation?
When I graduate from medical school in 2022, I plan on entering some kind of residency program, but I am currently very unsure about what specialty I would like to pursue. Although it is a little scary being so uncertain about the future, people tell me that going into my 3rd and 4th year rotations with an open mind will help me find the field that best suits me. I hope they are right!
What advice would you give a current Denison student considering a graduate or professional program like yours?
Apply EARLY. I cannot stress this enough. Medical schools admit students on a rolling basis and classes will fill up, so it is in your very best interest to apply right on June 1st. I took the MCAT late and couldn't apply till the fall of my senior year. This put my application deep under the pile of the students who had applied early, and definitely added unneeded stress onto my application process. While some students were interviewed in August and received acceptances in October, I didn't receive interviews until January, and acceptances until a few weeks before graduation! Do yourself (and your mental health) a favor and apply as early as you can! On another note, I would recommend students complete some sort of anatomy coursework before they enter medical school. I did not take anatomy in high school or in undergrad, and found it challenging to adapt to the anatomical terminology used in our most recent muscular/skeletal system unit. It is absolutely not necessary to take anatomy, but it will definitely make the transition into medical school a lot smoother and easier! Even if it is just taking a free online "Intro to Anatomy" class the summer before, I would recommend students familiarize themselves with the field before entering medical school.