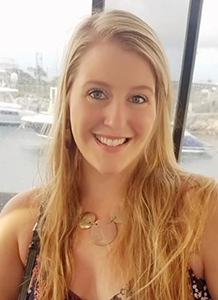 Name: Samone Schneider
Denison Graduation Year: Class of 2016
Denison Major: Biology
Professional School: Master of Science in Genetic Counseling from Joan H. Marks Graduate Program in Human Genetics, Class of 2018
Contact Me: vt.samone@gmail.com
---
What is the focus of your professional school and what content has most engaged you?
I entered college knowing that I wanted to become a genetic counselor. The field is very new and continuously expanding with many different opportunities. In addition, I had a real passion for genetics and a desire to work closely with patients. Genetic counselors work with their patients to evaluate their personal and family history and determine which tests are the most appropriate. Also, genetic counselors work very hard to obtain true informed consent and educate the patient on not only why we are offering the given test, but how it can impact the patient and their family.
Describe the process you went through while selecting your professional school pathway: what impacted your decision?
The majority of individuals who enter a genetic counseling training program end up taking at least one gap year. The acceptance rate for these programs is actually quite low, so it was important to have an impressive resume. While your academic performance is very important to these schools, so are your experiences outside of the classroom. One of the largest examples is some sort of counseling experience and some exposure to the field itself. Personally, I quickly became a part of SHARE on the Denison campus and became as involved as possible (being an advocate, being on-call trained, participating in events, and presenting during freshman orientation). For my exposure to the field, I spent all three of my summers shadowing and eventually interning with a genetic counselor. My summers were quite busy, because I also worked throughout the summer too. It took a lot of work, but I was able to get into the program straight from undergrad.
What challenges did you face on the way to medical school, and how did you overcome them?
Definitely my relationships with my classmates. Graduate programs tend to be quite small (mine was ~25 individuals), so it becomes a very tight knit community. In addition, our program worked very hard to eliminate a competitive environment and instead made us feel like we were working together to accomplish a goal. This attitude extends to the professional community as well: genetic counselors tend to look out for one another.
What are your professional plans post-graduation?
That is a very hard question! I love my job for many different reasons, probably the most of which is the relationships I am able to cultivate with my patients. I have a lot of autonomy in my job, so I can really take the time my patient needs to hear them out and what they need from me or the hospital. It can be an extremely satisfying job.
What advice would you give a current Denison student considering a graduate or professional program like yours?
Take the time to build your resume with things that make you an interesting applicant. There are many experiences you can get while at Denison (ex. tutoring, TA-ing, SHARE, research, etc.), but it is also important to get experience off campus. Take advantage of the internships that are available. Also sometimes you need to create your own opportunities. When I was shadowing with a genetic counselor I kept asking what I could do to make her life easier. I ended up getting involved in research with her and eventually becoming her intern. Even if you are only given the ability to redraw pedigrees for example, that is still a huge learning opportunity. To find a genetic counselor, use the NSGC.org Find a Genetic Counselor tool. Many hospitals have strict rules about students, but even chatting with a genetic counselor over coffee is something you can add to your resume. In addition, many programs do "career days", which can also count as exposure to the field. I am also always happy to speak to any student in more detail!