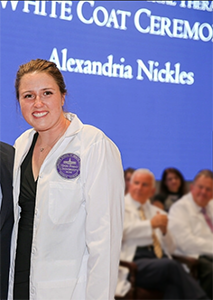 Name: Alexandria Nickles
Denison Graduation Year: Class of 2017
Denison Major: Biology
Professional School: pursuing a Doctor of Physical Therapy from High Point University, Class of 2020
Contact Me: alexandria.nickles1@gmail.com
---
What is the focus of your professional school and what content has most engaged you?
I definitely spent a lot of time talking to individuals who had gone through the process of applying to physical therapy school before me to gain advice on how to proceed moving forward. Their advice helped guide me into understanding the process a little better and helped prepare me early on in my Denison career to make sure I could attend PT school right after graduation. I also was fortunate enough to apply to schools that had interviews so I was able to explore different campuses before I made my final decision.
Describe the process you went through while selecting your professional school pathway: what impacted your decision?
I faced many challenges applying to graduate school. One of those challenges was trying to show schools all of the wonderful things that I learned at Denison beyond my GPA. I definitely worked a lot with mentors at Denison and mentors within my desired field to help edit my application to make sure that was showcasing my diverse experiences from my undergraduate degree. Future, I also struggled with knowing if physical therapy was exactly the way I wanted to go with my career as went into my junior and senior years at Denison. To make sure, I actually spent a lot of time with alumni of Denison and my mentors at Denison talking through my options. They were the best sounding board of reflecting what my career goals were with my interests.
What challenges did you face on the way to medical school, and how did you overcome them?
My favorite part of my graduate school experience was getting to attend a medical mission trip to Jamaica this summer. I was able to go down with a few of my classmates and my mentor here at High Point for a week and a half to provide care to patients with neurological conditions such as strokes, spinal cord injuries, and traumatic brain injuries. I had a completely life changing experience through learning about many different clinical techniques, the importance of inter-collaborative patient care, the cultural differences that exist in the medical field worldwide, and through all the people that I met.
What are your professional plans post-graduation?
Post graduation, I plan on finding a job as a physical therapist in a hospital system, hopefully specifically a hospital with an inpatient rehabilitation facility. I hope to continue to pursue mentorship and education wherever I work to someday hopefully become a clinical instructor and maybe a faculty member at physical therapy program.
What advice would you give a current Denison student considering a graduate or professional program like yours?
Definitely start looking into programs that you think that you want to attend early in your career. It will help you plan out classes that you want to take throughout your Denison career so when it does come time to apply you don't have to take classes outside your Denison education. I would also recommend reaching out to your Denison mentors and asking their advice when it comes to what you personally should look for in a graduate program. They are full of knowledge and can help you prioritize a list of characteristics in schools that fit your learning style best.