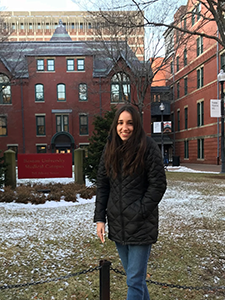 Name: Emily Grabauskas
Denison Graduation Year: Class of 2018
Denison Major: Psychology, Religion (minor)
Graduate/Professional Degree Type: Master of Arts (MA) in Mental Health Counseling and Behavioral Medicine, Boston University School of Medicine, Class of 2020
Contact Me: egrab@bu.edu
---
Describe the process you went through while selecting your graduate or professional school pathway: what impacted your decision?
I looked into both Mental Health Counseling and Social Work degrees to decide what best fit my goals. I talked with people in the field and then chose some schools to apply to! I ultimately chose BU because it is a counseling program that also provides its students with classes such as Psychopharmacology and Neuroscience counseling courses, which was incredibly appealing to me.
What challenges did you face on the way to graduate or professional school, and how did you overcome them?
I was very nervous about moving to a new city where I didn't know anyone, but I decided to live with another Denison Grad and I joined the alumni chapter of Theta, so I still had a little bit of Denison with me while still starting fresh in a new city. In regards to coursework, I felt very prepared by Denison for what was ahead of me in graduate school.
What has been your favorite part of your graduate school experience so far?
My favorite part is the clinical experience I am allowed. I am currently an intern at a Substance Use Detox and Intensive Outpatient Treatment Program. The opportunity to actually engage in the work you will be doing while also attending school is wonderful.
What are your professional plans post-graduation?
I plan on working in the field of addictions counseling moving forward!
What advice would you give a current Denison student considering a graduate or professional program like yours?
Choose a path you are passionate about. It makes all the difficulties like moving and making new friends so worth it!