Ashmita Das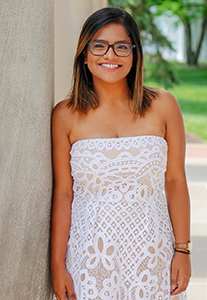 Denison Graduation Year: Class of 2018
Denison Major(s): English Literature & Communication
Graduate Degree Type: MS in Digital Marketing from Dublin City University, Class of 2019
Contact Me: das_a3@denison.edu
---
Describe the process you went through while selecting your graduate school and career pathway: what impacted your decision?
I wanted to move back to Europe for my masters. I narrowed down the country with the course I wanted to do. Ireland is the only country in Europe with a masters degree in digital marketing. As for the school I picked, I looked into rankings, where the alumni were working and the number and reputation of the accreditation's that the business school had.
What challenges did you face on the way to or during graduate school, and how did you overcome them?
The biggest challenge I faced in graduate school was combating imposter syndrome. I knew nothing about marketing, web development or data analytics. I kept thinking that I didn't really belong in the course and struggled with changing the way I studied, or even the way I write my papers. The only way I could overcome it was to face all of the challenges head on. I got a lot of help from my classmates in navigating all of the subjects and spent more time than I had ever spent just doing assignments and keeping up with my work. Since my degree was only a year, I realized that I just had to put my life on hold and give my 110% in finishing my degree.
What was your favorite part of your graduate school experience?
My favorite part has definitely been the people I've met through not only the course, but also just by virtue of living in a new country. I have honestly been taken aback by how close I've become with my classmates in just a few months and how willing everyone has been to help so that everyone succeeds. The environment of healthy competition and support has definitely been a pleasant surprise.
What are your professional plans post-graduation?
I plan to stay on in Dublin, Ireland for the next year or so and work as a Digital Marketing Executive.
What advice would you give a current Denison student considering a graduate program like yours?
Definitely do a lot of research on the college. Specially when moving countries. I spent a lot of time in picking the university I did. Don't just go by a big name. Also, I would definitely recommend reaching out to alumni and asking for advice and experiences. Figure out if that's the kind of experience you're looking for. I've learned that the same course in different colleges, just in Dublin, offer vastly different experiences and different strengths and weaknesses.