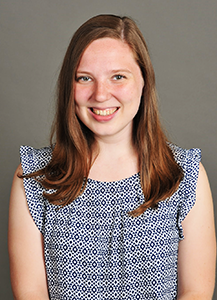 Name: Melanie Blank
Denison Graduation Year: Class of 2016
Denison Major: Psychology (Neuroscience Concentration)
Professional Degree Type: Doctor of Occupational Therapy (OTD), Mary Baldwin University Murphy Deming College of Health Sciences, Class of 2021
Contact Me: blankme0617@marybaldwin.edu
---
Describe the process you went through while selecting your graduate or professional school pathway: what impacted your decision?
When I graduated from Denison, I thought that I wanted to pursue a Ph.D. in Neuroscience. I interviewed at several programs and decided that I was not quite ready to go to graduate school, so I applied for Research Assistant positions and I got a job working in a Behavioral Neuroscience lab at the University of Pittsburgh as a Lab Technician. I worked in this lab for two years, and while I really loved my job, I also determined that I did not want a career that was exclusively dedicated to research. It was then that I started to explore other options. My sister suggested that I look into Occupational Therapy. She thought that OT might be of interest to me given my psychology/neuroscience background. After doing a little bit of background research, I shadowed several local occupational therapists and decided that OT was for me. I loved being able to see the positive impact that occupational therapists could have on their patients in such a short period of time. I came to realize that pursuing a doctorate in Occupational Therapy would allow me to have the best of both worlds. It would allow me to connect with people on a very personal level and provide me with the opportunity to continue my involvement in research.
What challenges did you face on the way to professional school, and how did you overcome them?
I think that my first major hurdle was figuring out exactly what I wanted to do. I had so many areas of interest, and it was difficult to pick one career path. I spent a lot of time weighing the pros and cons of PA programs, OT programs, Clinical Psychology Ph.D. programs, and Neuroscience Ph.D. programs. At times this process was very overwhelming; however, listening to input from family, friends, and colleagues helped me to narrow my interests and led me to my current career. Later, once I figured out what I wanted to do, I struggled with managing the application process. I had to take prerequisite classes, craft my resume, fill out applications, and write personal statements, all while working full time. Juggling all of those things was difficult, but I learned to take time for myself and to take everything one day at a time.
What has been your favorite part of your professional school experience so far?
I think that my favorite part of my graduate school experience has been having the opportunity to participate in fieldwork experiences. In occupational therapy school, students are required to participate in a certain number of fieldwork experiences. During these experiences, students are assigned to work with an occupational therapists in the community in a variety of different settings. These settings can include outpatient clinics, hospitals, skilled nursing facilities, schools, psychiatric units, and many others. I value fieldwork because I love connecting with clients in the community and I think that I learn so much more by working with clients than I do in a traditional classroom setting. I am very excited for more fieldwork experiences in the coming years!
What are your professional plans post-graduation?
At this point, I am still unsure of my plans post-graduation. I would love to work in neuro rehabilitation. I also love working with the geriatric population. Something that I love about Occupational Therapy is that OTs can work in so many different settings with so many different client/patient populations. We are trained as generalists, so once we are licensed we can work in any setting we choose. I like having options, and I look forward to exploring a multitude of settings during my next few years of graduate school.
What advice would you give a current Denison student considering a graduate or professional program like yours?
If you are unsure about what you want to do, there is no shame in taking a gap year or two. I think that taking two gap years was the best decision that I ever made. During these two years, I learned so much about myself and I had the opportunity to discover my passion for occupational therapy. Additionally, when considering any kind of graduate program, it is important to do your research. Make use of all of the resources that you have available to you. Talk to professors, friends, and family. Reach out to programs that interest you. Reach out to alumni. Ask questions. When I was considering graduate school, I reached out to people who were practicing occupational therapists and to people in PA school and Ph.D. programs (some of whom were Denison alumni). I thought that it was extremely helpful to talk to people who could offer a clearer picture of what graduate school is like. Talking with these people prepared me for the challenges I have faced during my time in graduate school. Never be afraid to contact Denison alumni. You can read pamphlets and webpages about graduate programs and jobs in the healthcare field, but nothing compares to talking with somebody about his or her lived experience. Odds are, anybody you talk to will be more than happy to share their story and offer advice. Above all, it is important to be passionate about your future career path; otherwise you will not enjoy your graduate school journey. Before you apply to graduate programs, take the time to discover what your interests are. I promise you will not regret it.