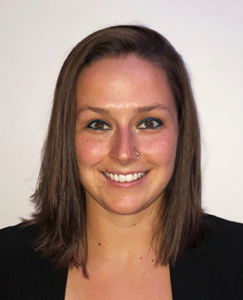 Name: Kinsey B. Bryant-Lees
Denison Graduation Year: Class of 2013
Denison Major: Psychology; Women's Studies (minor)
Professional Degree Type: M.A. in Cognitive & Social Processes, Ball State University; PhD in Organizational Psychology, Wright State University, Class of 2019
Contact Me: kbbryantlees@gmail.com
---
Describe the process you went through while selecting your graduate school pathway: what impacted your decision?
To be honest, I kind of wondered into my professional pathway by following the things that I was most interested in. I knew that I wanted to pursue a career in research and that I was particularly interested in the consequences of stereotypes and implicit biases in the workplace. I began by pursuing my M.A. in cognitive and social processes. While in my program, I became much more interested in applied research which lead me down the PhD path in Industrial Organizational Psychology.
What was your favorite part of your graduate/professional school experience?
My favorite part of my graduate/professional school experience was being able to conduct research completely independently, and pursue my own passions.
What are your professional plans post-graduation?
I have just recently finished my PhD (July 2019) and am beginning my career as a tenure track assistant professor at Northern Kentucky University this Fall. I plan to continue this, as well as work as an independent research consultant. I don't really feel like I've gotten to enjoy it yet, but when it sinks in I think that one thing I am going to enjoy most is the autonomy to develop my own classes and pursue my own research goals.
What advice would you give a current Denison student considering a graduate or professional program like yours?
I have a few pieces of advice:
It's okay to not know exactly what you want to do when you graduate – just keep following what you're passionate about and you'll carve your own way.
Don't be discouraged by setbacks – full disclosure, I applied to 10 programs coming out of undergrad (1 masters program and 9 PhD programs). I was only accepted into the Master's Program, which at the time was extremely discouraging and made me think that I was under-prepared for what was coming next. When I arrived, I was honestly over-prepared which allowed me to do my regular coursework, independent research, and get additional certifications simultaneously.
Take advantage of everything Denison has to offer – this is something that everyone says, but I didn't fully appreciate until after I had graduated. The education that you can get and the relationships that you can build at Denison are incredible.