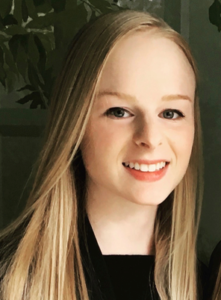 Name: Christina Till
Denison Graduation Year: Class of 2016
Denison Major: Psychology
Graduate Degree Type: M.S.Ed. in Child Psychology, and a Psy.D. in School Psychology, from Duquesne University, Class of 2020
Contact Me: tillc@duq.edu
---
Describe the process you went through while selecting your graduate school pathway: what impacted your decision?
I did not begin my undergraduate career with the intention of pursuing a graduate degree. However, a graduate school path became apparent after discovering my passion for psychology, research, and child advocacy through my coursework at Denison. By my third year, I knew that continuing my education was necessary to further my knowledge of these interests as well as combine them into a meaningful career.
What challenges did you face on the way to graduate school, and how did you overcome them?
Deciding between two fields of interest (i.e. school and clinical psychology) was a particular challenge for me in the process of applying to graduate school. Completing my own research, attending graduate program interviews, and consulting with Denison faculty (thank you Dr. Weis!) were instrumental to my selection of a path that best fit my interests.
What was your favorite part of your graduate/professional school experience?
I have really enjoyed the practicum experience offered each year within my graduate program, as it has enabled me to gain an applied experience of content learned in class. A second favorite component to my graduate program is the opportunity it has given me to work with student colleagues who share a similar passion for the field and academia.
What are your professional plans post-graduation?
After I receive my doctorate at the end of this academic year, I plan to obtain my state certification and licensure, and then pursue employment as a psychologist in the school setting.
What advice would you give a current Denison student considering a graduate or professional program like yours?
Prior to selecting a graduate program, speak with at least one or two professionals in your field of interest. This is especially helpful if you are considering multiple field or degree options. Ask them questions that are meaningful to you, such as additional information regarding their day-to-day responsibilities as well as what they like and dislike about their position. I was able to interview three school psychologists and two clinical psychologists prior to selecting a graduate program, and found their responses invaluable to my decision-making process.