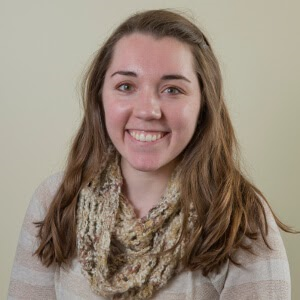 Name: Hannah Fiore Gallagher
Denison Graduation Year: Class of 2016
Denison Major: Psychology
Graduate Degree Type: Master's in Social Work (MSW), from the University of Pittsburgh, Class of 2020
Contact Me: fioreh15@gmail.com
---
Describe the process you went through while selecting your graduate school and career pathway: what impacted your decision?
Throughout my time at Denison, I planned to get a PhD in psychology. After graduation, I worked for two years as a project manager in a research lab at the University of Pittsburgh. I loved the work, but ultimately decided that the academic lifestyle is not for me. There are a lot more people with PhDs than there are jobs in academia, and all of the sacrifices necessary just to have a chance at a tenure-track position were not worth it to me. I don't say this to discourage people from that career if that's what they want! But I don't think that future quality of life is talked about nearly enough when we consider career preparation, and it's an important facet to consider. So, with academia off the list, I became interested in psychology-related master's programs. I applied to social work, counseling, and marriage and family therapy programs, but I ultimately settled on social work because of its flexibility. I loved my liberal arts education at Denison, and in many ways the MSW is the liberal arts of professional degrees. Having this degree will offer me numerous career paths going forward. I can work for the government, the private sector, a non-profit, medical settings, and more. I liked that I could gain some expertise in the mental health field without being pigeonholed into one specific career path.
What challenges did you face on the way to or during graduate school, and how did you overcome them?
Social work does not have a great reputation as a profession. People associate it almost exclusively with Child Protective Services and think all social workers are miserable and burned out. Many of the stereotypes are off base or exaggerated, but a lot of people believe them. So getting past other people's opinions about my decision to pursue an MSW was probably the biggest challenge I faced.
What has been your favorite part of your graduate school experience so far?
My favorite part so far has been gaining more experience with diagnosing mental health disorders and formulating treatment plans. I got an overview in these areas from my abnormal and clinical psychology courses at Denison, but now I'm getting an in-depth look at different treatment modalities and how to implement them. Starting this fall, I will have my own caseload of therapy clients, and I'm excited to put my classroom knowledge into practice.
What are your professional plans post-graduation?
I plan to work as a therapist, preferably in a doctor's office or other medical setting.
What advice would you give a current Denison student considering a graduate program like yours?
Work for a couple of years before you go to graduate school. It will give you valuable life experience, allow you to save some money and/or pay down debt, and help you focus your interests better. I think a lot of people are a little burned out by the time they graduate with their bachelor's degree, so taking a gap year (or a few years!) can give you a much-needed break and also help you gain experiences that will make you more attractive to graduate schools.