Andrea Karl Byrum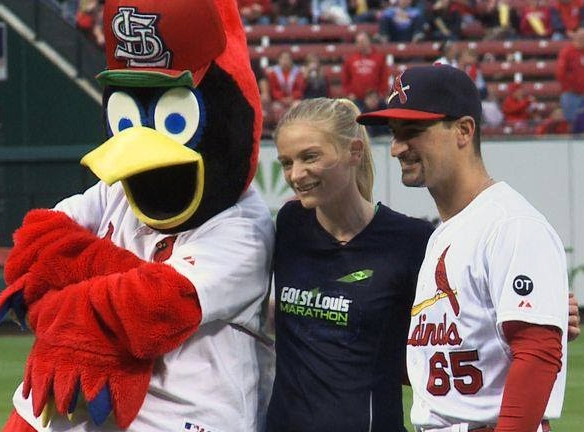 Denison Graduation Year: Class of 2014
Denison Major: Biochemistry; Economics (minor)
Graduate Degree Type: PhD in Biochemistry from Washington University, St. Louis, Class of 2019
Contact Me: andrea.karl.10@gmail.com
---
Describe the process you went through while selecting your graduate school and career pathway: what impacted your decision?
Since high school I have always loved biochemistry and I loved the idea of being a researcher. My professor's passion for research and teaching helped solidify my goal to go to graduate school for a PhD in the field. I did summer and senior research with Dr. Jeff Thompson and found every aspect of it to be fascinating… even the frustrating parts, which was a good sign to me that graduate school was the next step to take.
What challenges did you face on the way to or during graduate school, and how did you overcome them?
I was a strong student in the classroom but definitely struggled a lot when I started a research project in the biology department. I messed up A LOT of experiments and struggled with the lab techniques. Dr. Thompson, my research advisor was patient and encouraging, but he also challenged me to focus and to improve. He didn't sugar coat the fact that basic science research is difficult but showed confidence in my ability to grow. I took on that challenge and learned a lot in the process. I was able to use those experiences in the lab at Denison to help persevere through tough times in graduate school.
What was your favorite part of your graduate school experience?
I am currently getting ready to defend my thesis in a few months. My favorite part of grad school is the extreme growth I have experienced as a scientist in just a few short years. Each day presents its own frustrations and challenges when experiments don't work the way you want them to, or you don't get the outcome you want. But to think back to just a few months or years ago and to think about how much I have learned and mastered both from a critical thinking standpoint and from a lab technique standpoint, I am just amazed!
What are your professional plans post-graduation?
I am planning to return to Columbus, OH to live with my husband and to become a post-doctoral cancer researcher at The Ohio State University or Nationwide Children's Hospital.
What advice would you give a current Denison student considering a graduate program like yours?
I would say that graduate school is really fun and challenging at the same time! Always keep a positive mindset and believe in yourself. You would not be there if you were not capable of being a great scientist. Trust your liberal arts education… my ability to write and think critically has served me extremely well in graduate school, and I have my Denison professors to thank for that! And most importantly, get out of the lab and have fun! I have run 8 marathons while in grad school, so having hobbies is more than possible!