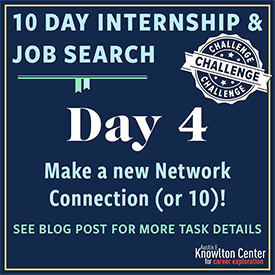 Two of the most popular ways companies find new hires are through employer referrals and professional networks. Many students are afraid of networking or are concerned it's inauthentic and just a way to get what you want. And many think they don't have a base network to start with (hint: you do!). Networking is simply about building relationships with those who share similar professional experiences, interests, and goals. There are countless resources available that make networking today easier than ever. Here's how to get started!
TODAY'S CHALLENGE
Find an alum you want to connect with using the LinkedIn Find Alumni Tool. Watch this 3-minute video first to understand how to utilize this powerful tool. Then navigate to the Denison University Group page and request to join (more on why this is important in a minute). Now, head back to the alumni tool and think about who to connect with and why. For example, if you are a Junior looking for a digital marketing internship in the Chicago area, start by narrowing down all alums who currently work in Chicago using the "where they work" filter and then type in the keyword 'Digital Marketing'. Review the alumni found and decide who you might want to connect with.
Connect to at least one person today. You've found someone who you want to connect with! Great! When you click 'Connect' you will have the option to include a message (which you should always do!). The length of the message you can send is very limited. This is where the Denison Group comes in handy. Before you send them a super short message in the connect option, navigate over to the Denison group, and look at the full list of members. Search for the person you want to connect with and if they are also a member of the group, you can directly message them without character limits! Make sure to still send a connection request.
Send a customized message. So you've found someone working in digital marketing in Chicago and it's someone you would love to connect to. If you only have the option of requesting a connection with a short note (they aren't in the Denison group), tell them briefly why you want to connect. For example, "I'm a Denison Junior from Chicago hoping to build my network in digital marketing and would love to connect." If you can first send them a message because they are in the Denison group, you can share a bit more. Here you can introduce yourself, let them know why you are interested in connecting (both Denisonians, from Chicago, digital marketing), and give a direct call to action (request a call/email/exchange via LinkedIn) (Quick tip: use what you did for the Day 3 Challenge: Tell me about yourself! to help you). Again, don't forget to actually request them as a network connection after you send the message.
HAVE A BIT MORE TIME?
Check out Wisr. Another great resource for making connections is Wisr, Denison's online tool that makes connections between students and alumni simple. Use Wisr to connect with Denison alumni willing to help on topics like developing skills, finding job or internship opportunities, learning about new cities, and much more. Think of Wisr as a Denison-specific LinkedIn. There are fewer alumni available in Wisr BUT they have all opted-in to connect to and support Denison students.
Make 2 -3 more connections between the two platforms and conduct an informational interview. As a student, you have access to the powerful Denison network of 40,000+ experienced alumni and friends in industries all around the world. Continue making new connections and learning from these experienced alumni.
Looking to go even further? Once you've made more connections, request an Informational Interview.