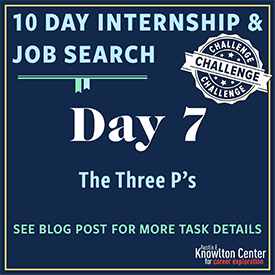 When was the last time you spoke to somebody about your career thoughts, concerns, ideas, or goals? For most students, what comes AFTER Denison isn't an everyday topic of conversation. But remember, Denison is built relationships and is a community filled with people who want to help you succeed as you plan for your future. So today the challenge is to reach out to the network you have (both on and off-campus). We've made it easy for you and have broken it down into "The Three P's." For today's challenge, we want you to have (or schedule) a conversation with:
A PROFESSOR
Small classes and relationships with faculty are a hallmark of the Denison experience. Make sure you take full advantage of that by having conversations with faculty about your career goals. Don't forget, they have seen many Denisonians graduate and move on to great careers.
A PROFESSIONAL
In last week's Day 4 Challenge: Make a New Network Connection, you used LinkedIn to find alumni. Did you reach out to any of them? If so, great! Mark this task as done. If not, now is the time to do so.
A PEER
Do your friends, roommates or classmates know what you are interested in doing? Don't forget, they are part of your network as well. If you are a senior looking for a job, don't forget about this great opportunity to form a Senior Job Search Pod with your friends to help you stay motivated during the job search process.
HAVE A BIT MORE TIME?
Meet with a Peer Career Coach during virtual walk-in hours. Peer coaches are available Monday – Friday and can help with more than just providing feedback on résumés and cover letters. Meet with a Peer Coach to talk about your career interests and your summer or post-Denison plans. Not sure about your plans yet? Our Peers can help you talk about some possible opportunities and help you come up with a plan. Just log in to Handshake and follow the instructions to start meeting with a Peer Career Coach!