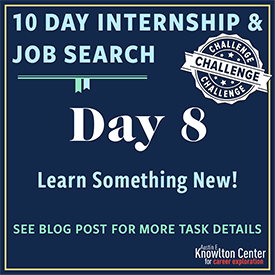 In addition to a college degree, employers value individuals who possess certain sets of skills (8 to be exact), that demonstrate your ability to solve problems and reach goals. They want to know that you have developed and demonstrated competencies considered essential in the workplace. The good news is that as a Denison student, you're already developing and strengthening these skills through classwork, internships, networking, jobs and other extra-curriculars. Here's how you can further articulate these skills so you standout with employers, graduate and professional schools.
TODAY'S CHALLENGE
Brush up on the skills employers seek in new hires. Familiarize yourself with the 8 Career Ready Competencies and see if there are any you feel need to be strengthened. Then view the curated video collections in LinkedIn Learning to see how you can strengthen those skills.
Learn something new. After all, today's challenge is called Learn Something New, so take 15 minutes to browse the 16,000+ courses on LinkedIn Learning. Explore collections on how to use software programs like Adobe Photoshop or Python Programming Language. Watch videos and become a master at using Microsoft Excel. Take advantage of your FREE access to LinkedIn Learning.
HAVE A BIT MORE TIME?
Browse industry-specific video collections to get a foundational understanding of various work functions from industry leaders and experts. Learn the skills needed to be successful in: