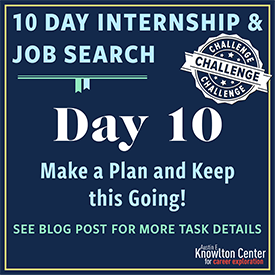 Hopefully, you've accomplished a few career-related tasks over the past two weeks. If you didn't get to every single challenge, that's ok! You can find an overview of every challenge here. No matter where you are right now, today's challenge is to set yourself up for success so you can keep the momentum going! Here's how:
TODAY'S CHALLENGE
Set Realistic Goals. Research has shown that you are 2x to 3x more likely to stick to your goals if you make a specific plan for when, where, and how you will perform the behavior. Using this worksheet, set 1 – 3 S.M.A.R.T. goals that will help you succeed. Examples of S.M.A.R.T. Goals:
I will reach out to 15 alumni who are doing digital marketing work by April 20, 2021.
I will spend 2 hours a week searching and applying for jobs/internships using LinkedIn, Handshake and WayUp and will revisit this schedule on April 15, to make adjustments if needed.
Define Your Schedule. To be able to meet these goals, you need to manage your time and usually that means making time for the job and internship search process. Use this time management worksheet provided by the Academic Resource Center to figure out how much time you have available to dedicate to your search.
Track Your Progress. Keeping track of your progress will make you feel accomplished and help you see your small successes and wins along the way. Find what works for you. Keep notes on your phone, in a notebook, on your laptop, or utilize a spreadsheet (template from The Muse here).
Add in Accountability. How are you going to ensure you stay accountable for reaching your goals? A great way to do so is to make an appointment with a Career Coach! And don't forget, if you schedule an appointment with a coach and indicate in the appointment notes that you are coming in to review your progress from the 10-Day Challenge, you will receive a gift!