Mary (Annie) McAuliffe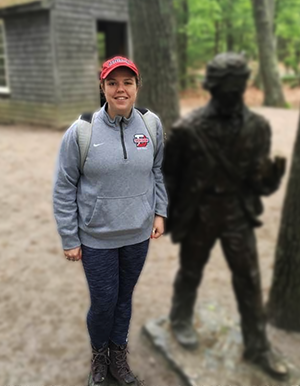 Denison Graduation Year: Class of 2016
Denison Majors: English (Literature); Spanish
Graduate Degree Type: Master of Science in Education – Secondary Education from Saint Joseph's University, Class of 2019
Contact Me: mcauli_m1@denison.edu
---
Describe the process you went through while selecting your graduate school and career pathway: what impacted your decision?
Although I didn't major in education at Denison, I had been considering a career in teaching due to my own experience of having benefited enormously from the Catholic schools I attended. I felt called to play a role in making Catholic education both better and less of a financial burden for families. From a friend, I had heard about a graduate program at a university that places teaching fellows in high-need Catholic schools for two years while they work towards a tuition-free master's degree in education, and receive free-housing as well as a living stipend. I decided to apply during my senior year at Denison and was wait-listed and then rejected. At a career fair in my hometown I learned about another volunteer program called the Augustinian Volunteers that places volunteers in Catholic schools in a new city and pays all of their living expenses for one year while they work in many capacities (substitute teaching, teacher's aide, office work) in these schools. I had planned to apply again to the graduate school that originally rejected me during my year as an Augustinian Volunteer, but during that year the principal of the school in which I served drew my attention to the fact that several other universities offered the exact same graduate program as they were part of a larger umbrella organization dedicated to serving high-need Catholic schools, the University Consortium for Catholic Education (UCCE).
What challenges did you face on the way to or during graduate school, and how did you overcome them?
As a Denison senior I struggled with finding ways to frame my Denison experience in a way that would make me an attractive candidate for education programs since I had not studied education or volunteered in classrooms previously. Folks in the career office, as well as my softball coach and other professors encouraged me to reach out to the program I was applying to directly and ask for clarification about the sort of candidates they were looking for. The program directors were happy to provide this information, and using their answers I was able to craft application essays which I felt highlighted the aspects of my Denison career that fostered the qualities of a good teacher (resilience, empathy, and flexibility).
What was your favorite part of your graduate school experience?
I will be forever grateful for my two-years as an ACESJU Teaching Fellow at Saint Joseph's University. My teaching placement was as an English teacher at Father Judge Catholic High School for Boys, and I also got to serve as a softball coach at Little Flower Catholic High School for Girls. My program directors were easily reachable and ready to listen to any struggles I had. During my first year of teaching I was observed every other week by a director from ACESJU who was tremendously helpful to me in providing constructive feedback and lending a sympathetic ear to the struggles of a first-year teacher. My directors in the program took great measures to get to know my peers and me personally, putting on social events and retreats at every opportunity and offering resources for self-care they thought might be helpful to new teachers. Their care for us as people was evident and constant. Another quality that sets ACESJU, as well as any of the other UCCE programs, apart from other graduate school experiences is that teaching fellows live together in community in housing provided by the university. The phrase "in community" has many different meanings in different programs. In ACESJU it means that we share not only a house, but weekly dinners and spirituality nights. In our case it also meant that we enjoyed one another's company and spent time completing work, playing games, watching movies, taking trips, and exploring Philadelphia together.
What have you enjoyed most about your work post-graduation?
Although I graduated from Saint Joseph's University with my M.Ed. in May 2019, I completed my fellowship with ACESJU in June after the school year ended at my teaching placement. Beginning in August 2019 I will be teaching as well as mentoring new teachers at Xavier High School, a Catholic high school in the Federated States of Micronesia (an island nation in the Pacific). This opportunity was brought to my attention by the staff of ACESJU.
What advice would you give a current Denison student considering a graduate program like yours?
I would advise Denison students considering one of the UCCE programs to carefully consider the type of grad school "experience" they are searching for. All of these programs are tuition-free, but each requires that participants commit to the lifestyle of community living for two years. ACESJU fellows participate in community dinner once a week and community spirituality night once a week, as well as several retreats throughout the year. Communities in our program range from 9-14 fellows in a house. Other programs in the UCCE require that community dinner be held three or four nights a week instead of one. Do not be afraid to reach out to program coordinators and ask what "community living" means and looks like in the context of their program- they are all friendly and helpful people who are more than happy to answer this question. If you ask, many will also be happy put you in contact with someone currently in the program so that you can ask them about their experiences. Also feel free to ask about the process through which the program would place you at a school to teach in, and what your role would be in that school (Will I only be a teacher or will I also spend some hours in the office doing administrative work? Will I be required to work or volunteer at school events or stay after school for tutoring/moderating extracurriculars/ afternoon care on certain days?). Some programs make decisions on their own about where to place teaching fellows, while other programs ask that you go through a few interviews with principals at various schools in order to determine which would be the best fit for both you and the school. Finally, ask the school which degrees are open to you based on your undergraduate degree.