Lindsey Hernandez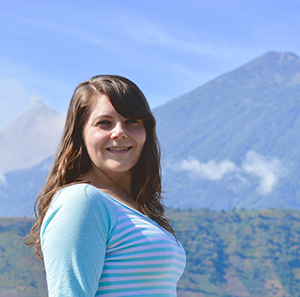 Denison Graduation Year: Class of 2016
Denison Major: Geosciences
Graduate Degree Type: MS in Petrology from The Ohio State University, Class of 2020
Contact Me: hernandez.641@osu.edu
---
Describe the process you went through while selecting your graduate school and career pathway: what impacted your decision?
From undergraduate research at Denison, I already knew that I wanted to work in petrology/volcanology, so that helped me focus my graduate school search. I started out by reading journal articles on research I was interested in and began to contact the authors to see if they would be looking for students (and if there was available funding). This allowed me to put feelers out before beginning the application process so that I wouldn't waste time applying to a school that couldn't offer funding. Also, most applications asked for the name of your potential advisor, so getting that first contact is important! My decision was based mostly on the funding available—I was offered a fellowship at OSU with a stipend and full tuition waiver, which was a great offer. However, I also thought it was important to consider how well I would get along with my potential advisor, since graduate school requires you to work pretty closely with them. In addition to meeting my potential advisor and discussing potential research projects with him, I also talked to his current graduate students about their time at OSU and their experience working under him to get a feel for if that environment would be a good fit for me.
What challenges did you face on the way to or during graduate school, and how did you overcome them?
The biggest challenge I faced during graduate school was getting up to speed on my research project. My graduate research is pretty different from my undergraduate research, and we use different methods. I also have a lot less guidance as a graduate student, so it can seem a little overwhelming and confusing at times. Starting off, I spent a lot of time reading journal articles, upper level textbooks, and learning from my lab mates in order to get a better feel for motivation and methods of the projects my advisor oversees. After I gained more understanding, I was able to find my groove and customize the focus of my project to something that fits my interests. Finding my niche has made graduate school incredibly fun and engaging, even if it took a lot of work to get to this point!
What has been your favorite part of your graduate school experience so far?
My favorite part of graduate school is my research! I have learned the most though doing research and analyzing my data. I have a lot of freedom in the approaches I take, which allows me to explore ideas and answer really interesting questions. I was also able to get financial support for fieldwork for my project, which is allowing me to go to Guatemala to collect samples of lava, which is an incredible opportunity!
What are your professional plans post-graduation?
After finishing my MS degree, I plan to stay at OSU to pursue my PhD and continue working on my project. After fishing my PhD, I hope to work for an agency or institution at which I can continue working on the geology of Guatemala.
What advice would you give a current Denison student considering a graduate program like yours?
My biggest recommendation is to do research as an undergraduate. This is so helpful because it teaches you how to approach a research project in graduate school, and how to work independently. Denison has amazing undergraduate research opportunities, so take advantage of them! In addition, having some computer programming skills is very helpful in graduate school—almost every class I have taken has required the use of some sort of program, and having an understanding of coding basics beforehand lets you focus on the subject matter of the assignment, instead of the logistics of coding. I recommend taking at least one computer science course at Denison so that you are better prepared for this. Not to mention, being able to code allows you to do some pretty cool stuff in your own research, as well!