Finals week is quickly approaching, and, like everything else in 2020, it looks a little different this year. Since Denison students will be participating in exams after they have left campus, Educational Technology Services has technology-related recommendations for final exams. While we understand that many Denison faculty members already have a tentative plan for how they will approach finals, we urge everyone to read these recommendations below as there are specific reasons included for why we do or do not recommend various options. Please keep in mind as students move remote for finals, they won't have access to all the tech and software that is available on campus.
Though it is not focused specifically on final exams, check out this previous EdTech Tip for suggestions and demos on remote exams.
Technology-focused Recommendations for Remote Exams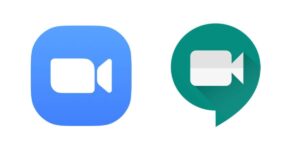 Option 1: Virtual Moderated Exam
This format entails moderating online exams in Zoom or Google Meet during a set time period. The format of the actual exam can vary depending on the assessment objectives, but the main idea here is to have all students in a Zoom or Meet call with videos on (there may be the need to make exceptions for students with low internet capabilities). This allows professors to see students as they take the exam. It also gives students a chance to ask professors questions should any arise while they are taking the exam as they would be able to during an exam in a classroom.
Denison faculty member Jordan Katz has been doing this moderated exam format for his remote students during the fall 2020 semester. Watch this video clip to learn more about how Jordan sets this up for his classes. Jordan has students scan their printed exams in his example. Here is a resource with information on how students can scan using their smartphones.
For professors planning to use this format who have students located in dramatically different time zones, they may want to moderate two different sessions for the exam.

Option 2: Take-home exam submitted online
This option suggests putting an online spin on a traditional take-home style exam. Professors can provide students with the exam or the prompt for the exam as they would for any other assignment. Professors can use Notebowl to create an assignment with submissions.
In your Notebowl course, navigate to the Assignments tab.
Click Add.
Click Assignment (not Test/Quiz).
Once the settings window opens, set the submission type as "file submission."
In the description box, include the exam prompt or instructions.
Set available as the date students will be able to see the exam prompt.
Set the due date for when the exam should be submitted.
When using the date settings above, professors may want to consider how long they want the prompt available before the exam should be submitted. Having a day or longer allows students time to read the exam and then ask any questions before the submission time. Professors might want to consider time zones that students are in when setting the available and due dates. Notebowl will calculate and display in whatever the local browser time is set to on an individual computer. Professors can learn more about how to create assignments in Notebowl here.
Tip: ETS suggested to check the box for "Allow late submissions." If a student tries to submit even one second past the due date, Notebowl will not accept the submission if the box is not checked. Professors will see the time every student submitted their files, so they will have the ability to determine how late submissions impact grades. Checking the box to allow late submissions prevents panicked students from emailing exams separately or giving up entirely.

Option 3: Online Exam (without an automatic timer)
ETS does NOT recommend automatic online timed exams. "Automatic online timed exams" include exams in Notebowl, EdPuzzle, etc, that are set for a specific amount of time. From a technology standpoint, this is primarily problematic when it comes to internet connectivity. With students returning to various locations around the country and the globe, there is no guarantee that all students in a class have reliable internet connections. In many electronic exam platforms, disconnecting from the exam will not pause the timer. This negatively impacts students without a reliable internet connection by no fault of their own. Based on what we have seen this semester, these timers tend to be problematic and cause additional errors for students.
What do we recommend? An online exam format that has typical exam questions like multiple-choice, true/false, multiple select, etc, is definitely an option for final exams. Notebowl has an option to create tests/quizzes in the assignments tab of courses. There are many options for how professors can set up exams in Notebowl. They may wish to limit the time frame students have to take the exam by setting available and due dates. We recommend using the available and due options over the timed exam option. ETS has instructions and videos here that go into more detail about how to create tests/quizzes in Notebowl that is worth watching for anyone planning to use this in their classes. Professors may also want to consider creating different versions of the exam for students in different time zones or for students who require accommodations. Click here for more information on how to do that in Notebowl.
Additional thoughts on final exams
ETS acknowledges that there are MANY variations for how professors might want to use options above with their exams. For example, professors can combine Option 1 with Options 2 or 3. While moderating an exam while students take the exam in Notebowl is an option, keep in mind that multiple browser tabs can impact internet speed.
Tip: Whatever format professors may choose for final exams, we recommend creating a low-stakes assignment where students can go through the process together prior to the exam. For example, professors planning to combine the virtual moderated exam option with an online exam might want to schedule a mandatory video call with students where everyone completes a mock online exam. Professors could do this as part of the exam review, or make it fun by using light-hearted and fun questions to ease some anxiety.
Need Additional Support with Exams?
Consultations with EdTech are available if you would like to discuss your final exams. Please follow the instructions on this page to sign up for a consultation.
Tech Resources and Demos
Additional Resources