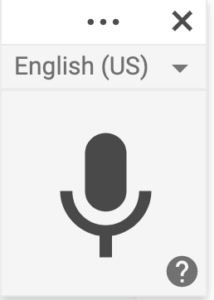 We are at that time of the academic year when we feel pressed for time. Voice Typing may offer you a time saving solution. We generally speak faster than we type, even if we possess pretty good typing skills. The Voice Typing tool allows you to dictate and format in Google Docs and in the speaker notes section of Google Slides.
Additionally, the Voice Typing tool can be useful for your students, especially for those that struggle to get their ideas down on a page as well as those with dyslexia, dysgraphia or any fine motor impairment.
Google's Voice Typing tool also permits you to add punctuation to your text. Just say any of the following,
Period
Comma
Exclamation point
Question mark
New line
New paragraph
You can also use the following commands to edit and format your document.
Select paragraph
Select [word]
Select [phrase]
Italics
Delete
Insert link
Go to the end of the line
There are many more commands, which you can find listed here: Use voice commands.
To view it in action, take a look at the video below.