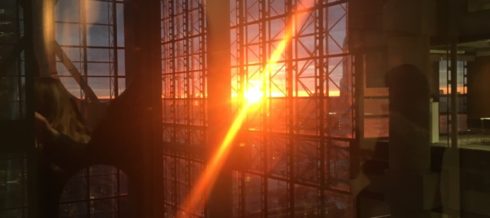 Hello! Today we visited Ernst & Young (EY) where Danya El Zein, a Denison alum from 2008, spoke to us about her role as a senior manager. She helps multinational businesses perform mergers and acquisitions and offered some insights about how to use a liberal arts education in the workplace. This visit was extra special as President Weinberg sat in on our session after arriving in London earlier in the week!
Up next, the group walked over Tower Bridge on our way to BPL Global which is an insurance brokerage. From there we got a tour of Lloyd's of London where about $100 million worth of insurance and reinsurance claims are negotiated every day. Learning about political risk and political violence risk and how claims are formed around such risks was especially interesting to me. The featured photo above is the sunset coming through the windows of the Lloyd's of London building.
The formal "business" day ended with a dinner at Balan's Soho Society where we dined with Emilios Kyriacou, the Managing Director Citi Country Officer for Greece, Cyprus & Malta. He is a Denison alum and enjoyed hearing how the university has changed and remained the same over the years since he graduated.
Stay tuned for tomorrow when the real networking begins! Denison alumni are flying in from around Europe to spend an afternoon together.