On Sept 22, I attended StatFest at Amherst College in Massachusetts with three of our students Anamay Agnihotri, Fatima Haroon, and Smelanda Jean-Baptiste. For all of them, it was their first statistics conference. StatFest is a conference aimed at undergraduate students from historically underrepresented groups to consider careers and graduate studies in the statistical sciences. The conference had it all on a single day. There was time dedicated to networking, poster presentations, keynote speeches, panels with professionals both from nonprofit and industry. There was also a students-only meeting where they could learn about the graduate school experience from graduate students while professionals talked about attracting and retaining students in a separate room.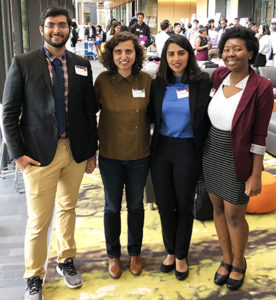 The conference had many prominent figures from the field. The speakers and panelists came from diverse backgrounds and representing industrial organizations, academic institutions, and government agencies, doing wide range of jobs such as legal writing on drug tests, analyzing sports data, and software testing, while using various software such as R, Python, and SAS.  The keynote speakers were Drs. Scarlett Bellamy, the past president of ENAR (Eastern North American Region of the International Biometrics Society) and Fernando Perez, creator of iPython and co-creator of Project Jupyter.
A common and an encouraging theme shared among many speakers and panelists were their failures. For instance, Dr. Bellamy failed her PhD qualifying exams the first time she took them, and Dr. Perez was in a "PhD crisis" and could not go on with writing his dissertation. It is important and often shocking for students to see these community leaders who went to some of the best schools in the nation, work prestigious jobs, and make major contributions to society, had failures along the way to success. It is also important for students to see their passion, determination, and hard work and how all that lead to success such as Dr. Bellamy securing first place in the qualifying exams second time she took it and Dr. Perez started Jupyter notebooks.
As a faculty member, I was pleased to observe our students find a safe space to learn to network and discover opportunities in industry, academia, and government. StatFest was truly informative and inspirational.
Below are reflections from our students.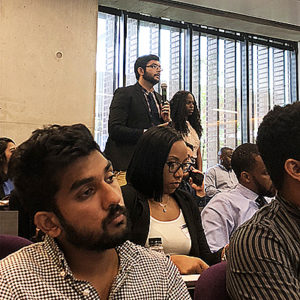 Anamay Agnihotri:
As an undergraduate senior, it was a surreal experience to not only hear from leaders in the field but to also network with some of them personally. Being a relatively small conference, there were enough opportunities to meet and talk to individuals from vastly diverse backgrounds while also getting to learn about some of the top graduate programs in the realm of data science and biostatistics.
As an international student applying to graduate programs this coming Fall, StatFest helped me talk through some of my own doubts and uncertainties regarding the graduate application process and made me realize that there are a lot of opportunities in the field that were not on my radar. My biggest takeaways from the talks and the conference in general were that it is ok to be vulnerable and put yourself out there. I realized that it was ok to not be 100% sure about everything and that there are a lot of people and resources out there to guide you if you ask the right questions and seek guidance from the right people. It helped me validate my progression in data science so far and listening to other graduate students gave me the confidence to apply to PhD programs (something I was really hesitant to do earlier). I look forward to building onto the connections I made and evaluating my options as I gear up towards Fall applications in December.
Fatima Haroon
I am a sophomore at Denison University, majoring in Data Analytics, with a concentration in Anthropology/Sociology and a minor in Computer Science. StatFest was a wonderful opportunity to network with and learn more about people and the work they do in the field of statistical sciences. I was initially not aware about the field of biostatistics and all the endless possibilities it can open for one. Hence, being able to look at the research of graduate students in that field and getting to hear about the journeys of renowned biostatisticians as to how they made their mark in this field was truly inspiring.
The conference involved a panel of highly experienced speakers, ranging from those pursuing their PhDs to those in the corporate industries and the government. Hence, the options of going into higher education or pursuing a career with a corporation of government agency showed how fluid the field of biostatistics really is, if one chooses to pursue it. I had a wonderful experience and I am grateful for what I learned and who I met at the conference. I look forward to attending it next year.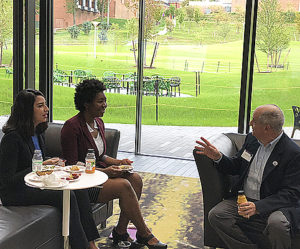 Smelanda Jean-Baptiste:
I had originally decided to go to the StatFest conference because I knew the statistical incorporations in my Sociology major. Despite knowing that I would be a minority in terms of my social science major, I was reaffirmed in my knowledge of how broad the field of statistics and data analytics/science is.
My first awareness was in the morning networking session when talking to a MassMutual representative about a great program opportunity in which if selected, a student can work for the company, learn more skills in data science, and have their graduate school education supported financially. The representative talked about how they welcome a variety of majors, especially one like sociology due to its focus on looking at societal behaviors that can offer perspectives to looking at consumers that may not be easily perceived.
The following panel of speakers in the afternoon was rich in listening to people of diverse backgrounds find their own ways of using statistics in their successful futures. What I learned the most is that there is no one answer to carve one's career, and that there does not have to be a "generic" or "typical" route post-undergraduate education.  Some individuals were born in lower socioeconomic classes, born in dangerous environments or in places that systemically offer less opportunities to those being raised in those locations. Others that I had the pleasure of meeting had much trouble in mathematics or had not started learning how to code until later in their education, but regardless their passions led them to putting in the effort to get to the place they were in now.
The sum of what I just stated can be said better by the keynote speaker and founder of Jupyter, Fernando Perez, who in his presentation reminded us that "if the world doesn't give you a space, you need to create one for yourself." It was not only him, but every person I met or heard speak seemed to reiterate this in their own way; whether it was the graduate students currently working in public health or biostatistics, people doing clinical research, or one woman I met paving the way for more diversity in SAS. Regardless of the individual, the message I gained was to keep exploring the opportunities I have available while I am still a Sophomore in undergrad. Thinking about the classes and resources Denison has available, I am grateful that I have a college to come back to after this conference that will help me in the journey of delving more into unexplored fields, especially in a field as up-and-coming as data analytics.