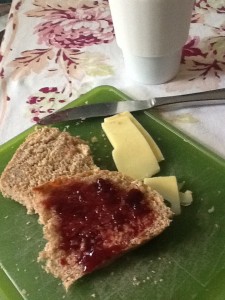 I've already had a better first day than ever!  Not to say I haven't messed up, but I've only messed up once and its already 11:00am!  The mistake was once square of toilet paper that I quickly grabbed to wipe the sink down..obviously without thinking!  I literally removed all paper products from sight except the toilet paper!  How quickly we turn to the disposable.
The main issue for me every year is food!  Not only do I have to worry about what to eat, but how much packaging comes with my food purchases…oh and how I'll cook it, too!  Full disclosure, I've done a lot of prepping for this week.  I spent a good part of Thurs.-Sat. scouring for local food (see pic).  Luckily, I needed to visit farms for my Sust. Ag course and I was able to pick up some goodies along the way.  I also visited the farmer's market at the church this weekend….and did have my partner pick up some pasta on his way home from work (is this cheating??).  My bounty: chives, walnuts, cilantro, rhubarb, mushrooms (from Blue Owl Emporium); beef and wheat flour (Flying J Farm); eggs (Bird's Haven); tea (petali teas…also cheating?); cheeses, bok choy, lettuce, chicken, bread and preserves (various vendors at farmer's market).  This is actually a good year in terms of food.  I've already thought of a couple of things I can make and my students helped me with a few more ideas this morning!
A question Colin constantly raises is whether we have to give up worldly pleasures to live a "green" life.  This morning, my breakfast  consisted of bread, preserves and cheese with a cup of tea.  While I know the tea is not grown here, it was made locally and allows me to support local businesses which seems to lessen the impact somewhat.  Anyway, the breakfast immediately transported me to my breakfasts in Madrid & Copenhagen…which made it feel more indulgent than depriving.  This makes me think that our conversation about asceticism in class (and even in the book) might be missing something.  Maybe it's not a matter of finding alternative means to fulfill our desires, maybe it's about perspective!