Day 4 began at 2:27 pm. "Rise and shine, Ridhim" said the bright sun pearing through my blinds. Wednesdays are tiring. Plus, I'm not getting any better. With a nice dose of Codeine, it was the earliest I could wake up.
I can't swallow anything, because my throat feels like a family of cacti now reside in it. So lunch and dinner for me was: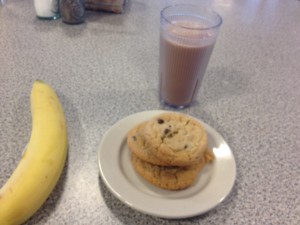 [misery]
Today was the first time since thanksgiving break that I had to print out something. It wasn't an official paper for  a class. It was more of a study material thing. So I decided to take along a bunch of papers Denison keeps handing out and used it's backside for printing. It worked out well. Using used paper for anything apart from official papers could be a thing I'm going to do even after no impact week.
I'm not struggling with my showers anymore. I've finally got it down from 5 minutes to 3! Try this. Get into the shower. Clean up real fast. and get out. Keep that mindset and you'll be done faster than you think. Don't sing in the shower. Don't stand there and reflect upon life. Do that in a boring class or in bed or at pointless Wednesday night parties.
I went to the Pet Therapy thing today and had some hot chocolate to sooth my throat. It felt great. Even better when I used my own cup rather than the paper/plastic ones they had there.
I think today was pretty effective and I wish I carry through the entire week with this attitude.
– Ridhim Seth