Like most of the country, Ohio is covered in snow. So this week, I dug our snowshoes out of the basement and my partner, two dogs, and I snowshoed across a local park. I love snowshoeing in a wide open, quiet space, or through a quiet forest, and it's a great way to wear out energetic dogs.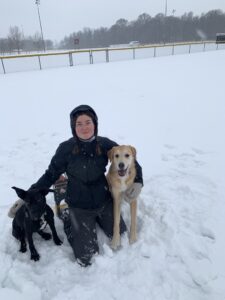 I love living in a place where I can snowshoe in the winter and paddleboard in the summer (though the dogs are far worse at paddleboarding). And as much as I love walking around Denison in the spring and fall when students are on campus, from my perch in Burton Morgan, when the campus is covered in snow it looks like a postcard.
The thing about experiencing all four seasons is that there is always something to look forward to. As soon as this snow melts, I know I'm going to start thinking about the spring bloom. And when I'm ready for something new, summer will be right around the corner – and on and on.
But for right now I'll bundle up and continue to enjoy the snow!