What is the course about?
This survey course will cover Ancient Rome from roughly the mid 2nd century BCE to the mid 2nd century CE, through investigation of significant sites, monuments, and museum collections in Rome and locations throughout southern Italy. Items considered will include both monumental and domestic architecture, wall painting, mosaics, sculpture, coins, epigraphic evidence, as well as maps and ancient sources.
Who can come?
Any current Denison first-year, sophomore, or junior. There is no prerequisite and no expectation that students have had any past experience in the history, language, or culture of the ancient Romans.
Do we get course credit?
Yes! The course earns 2 credit hours.
What does the cost include?
Cost for the course is roughly $2000 US plus the cost of airfare. This $2000 covers almost all transportation, room and board while in Italy (May 14-26, 2017). Plane tickets will be purchased as a group to try to get the lowest possible cost.
Is there Financial Aid for the course?
Students who are current Pell Grant recipients are eligible for financial aid.
What should I bring with me?
Students will be provided with a list of Dos and Don'ts for packing at the information meeting in April.
Where will we be staying?
In Campania, we will be staying at the new Vesuvian Institute in Stabia. From there we will take the circumvisuviana train to Pompeii, Herculaneum and the Naples Museum. Breakfast and Dinner will be provided. There is free wifi, wonderful views, and dorm style rooms. There is a laundry room downstairs The institute is a short walk up the hill from the small town of Stabia.
In Rome, we will be staying at the "Centro." Located on the Janiculum, near the largest park in Rome, the Centro is dedicated to the study of classics. There is an excellent classics library, a small gym, laundry machines, free wifi, good food and a friendly staff. Breakfast, bag lunches and dinners are provided Monday through Friday. The rooms are dorm style with shared bathrooms.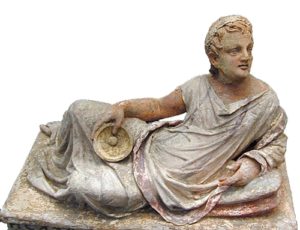 What can I do in my free time?
Here is link to a document that lists some not to miss activities. Feel free to add your own for the next group.