Today was the first day of our Art and Archaeology Seminar. Several members of the group traveled together from Columbus, Ohio while the rest of the group members came from their home cities. Most of us eventually met in Philadelphia airport and waited around 3 hours for our flight to Rome. Once on board, some members slept while others watched movies. We received both dinner (pasta or chicken) and breakfast (muffin and yogurt) while aboard the plane for the 9 hour flight.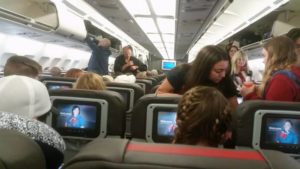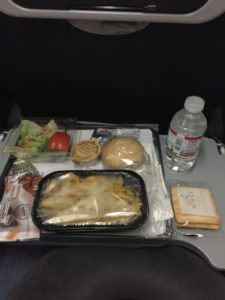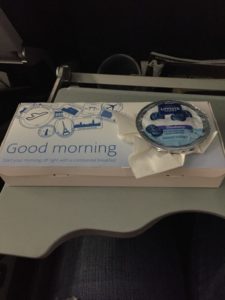 Once we arrived in Rome, we waited for what seemed to be a long time for everyone's luggage to arrive in baggage claim. When everyone was able to pick up their luggage, we climbed into two vans, and eventually settled in to the Centro. We didn't have much time before we were off to see the Basilica di Santa Maria in Cosmedin and the Round Temple.
The Round Temple was constructed using traditional Greek styles and marble. The temple was meant to be seen from all angles as evidenced by the columns that went completely around the structure. The temple was also able to be preserved due to the fact that it had been used as a church.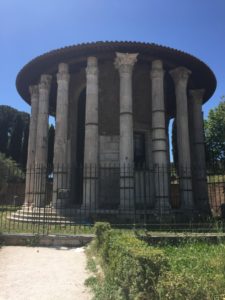 In order to get a sense of what a Basilica might have looked like before they felt apart, we visited the Basilica di Santa Maria in Cosmedin. While visiting the Basilica, we needed to ensure we remained silent in order to respect the religious atmosphere. The floor was made out of recycled marble, or spolia. The paintings on the walls used traditional paint colors such as black, red, and yellow.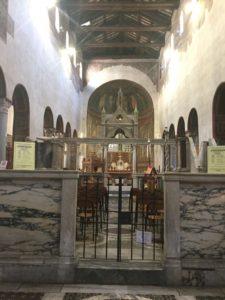 Our walk then led us to the Theatre of Marcellus. The theatre was made out of travertine with tufa covering some parts on the inside. Caesar originally commissioned for the theatre to be built, but Augustus was the individual who ensured its completion. In present day, the theatre is being used to house people in various apartments.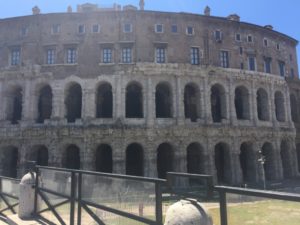 After returning to the Centro for a few hours, we took another walk through the neighborhood to become more familiar with the surrounding area. During this walk, we were able to see a vast view of the city, which aided us in trying to orient our positions within the city. Upon completion of this final walk for the day, we returned to the Centro and enjoyed a traditional three course Italian meal.