Day 3: The National Archaeological Museum
by Gabi Bany and Amelia Morris
Day 3 began with an extra little bit of sleep. After a quick breakfast, we all walked to The National Museum. We journeyed to the top floor to view the many different vases the museum has collected, and we learned about the primary types of vases made. Black figure, the earliest style used, is when the black glaze is put over the original clay. While these figures depict many stories, the detail within them has to remain simple. Next, we discussed the red figure, when the clay is coated in black glaze and parts of the vases are removed to create the art. Unlike the black figure, the red figure is more detailed. The last style we looked at was the white figure. This style was only used for funeral or ritual functions due to the white clay on top of the vase that could peel off from various external conditions.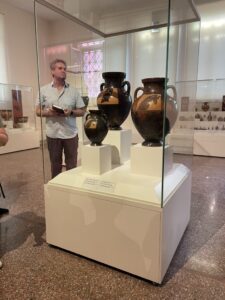 Amelia: I sketched the "Protoattic amphora" from the 7th century BC. I chose it because it was one of the more heavily reconstructive ones, and it was interesting to me how little of the original actually remained. It depicted a chariot drawn by winged horses with a beared man, which was interpreted to be related to the dead being transported to Elysian. Hearing about this archeological process was fascinating because they can use such small pieces and to make these vases somewhat whole again.
Gabi: I chose to draw a "Marble shell". I picked this because it had no known use that let me interpret it independently. I imagine it was used for decoration, and humorously I think of the modern beach house bathrooms. I wonder if the original artist thought their creation would be in one of the largest museums since the object is so simple.
After visiting the vases and grabbing a quick snack, we moved on to the lower floor containing a mixture of marble and bronze sculptures. We were all challenged by Dr. Goldman to say what we observed on the surface. We then applied this information historically by analyzing why these artistic choices were made. From interesting knees to various hairstyles, everything has a purpose.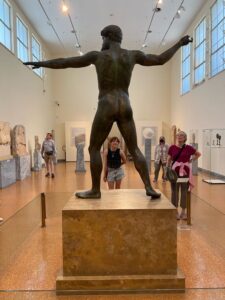 One room contained a giant bronze statue of either Zeus or Posideon; the identity is unknown because the figure is throwing an unknown item that would help identify which god it is. Few bronze statues (only around 60) exist because many were repurposed. This one and another of a child on a horse are preserved due to a shipwreck that made them sink to the bottom of the ocean. The statues had immense detail and portrayed a lot of movement that the marble statues could not show. We looked at many other impressive masterpieces before taking a break to sketch. After sketching, we all had time to enjoy the nice weather before our dance class.
Amelia: After the museum, a group of friends and I walked to Pedion Areos Park to look at a statue of Athena we had heard about. It was tucked away and surrounded by a ton of sprinklers. It was a lot larger than I expected it to be. We then found a strange little cave with a human figure inside, but we didn't know what it was because it wasn't labeled. After sitting in the park for a bit, we grabbed coffee and toast on the way back to the hotel.
Gabi: I was with the group that went to the park, and seeing the statue was cool. I had to dodge some sprinklers, but it was worth it. I then watched some pigeons and talked with my friends. I tried a sweet freddo latte at the cafe and liked it. I enjoyed this free period; the cooler weather also helped my enjoyment.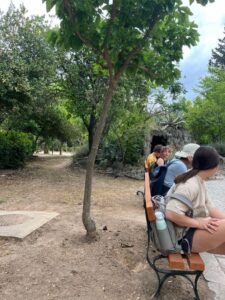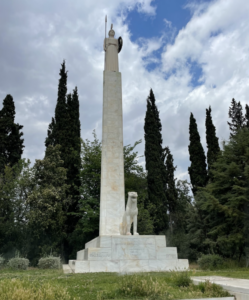 Due to unforeseen circumstances, we also got to take the metro to our following location. This was a new experience to some, but others had taken it many times. The night ended with many laughs as we tried to learn Greek dances, including the Sirtaki. Slowly but surely, we danced the night away. Some trips and shoves may have happened, but the memories will last forever.