Day 9: Yay for Mycenae
by Chloe Chai
[[NOTE FROM PROFESSOR KENNEDY: Due to ongoing excavation work, we are not permitted to discuss our visit to Pylos (Day 8). We want to thank Prof. Shari Stocker (Denison almuna!) and Prof. Jack Davis for their time and for letting us see what an active excavation looks like!]]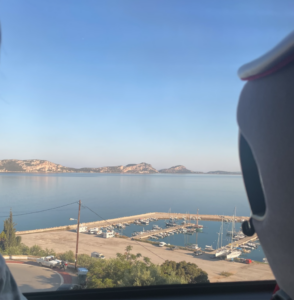 We started the 9th day of our trip with a hotel breakfast in Pylos. Like every morning, we enjoyed some Greek yogurt with local honey and then hit the road around 8:00 am.
From the bus, we were able to see the early sun on the beautiful Ionian Sea as we said goodbye to Pylos. As we started to leave, we sang a belated happy birthday song to Saul (in Greek, of course).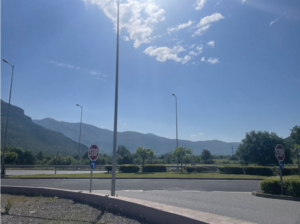 The ride to Mycenae took around 3 hours. We stopped in between to grab some snacks and Greek pastries to fuel up. We drove through scenic countryside, and even the view at the rest stop was spectacular.
We arrived at the Mycenae site at around 11:00 am. From there, we climbed up a steep hill to reach the citadel. We could immediately see the city walls, which did not enclose the entire city, just the citadel. Dr. Goldman taught us about three types of masonry techniques used to construct the walls, and how we can use their characteristics to provide context about when they were built.
As we climbed up, we could see more of the amazing view. We were able to view the entrance to the citadel where Phoebe gave a site report!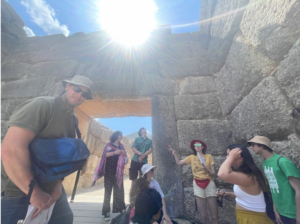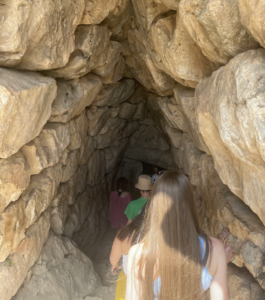 When we climbed up the citadel, we were able to see for miles. On the site, we were reminded many times of how elements of different cultures have spread across the region. For example, we saw cut stones that were similar to a style found in Anatolia, Turkey and also Tholos tombs that are found around Greece. Also, the site had a throne room like in Nestor's Palace, which we visited yesterday. As Phoebe said, these examples show cultural cross-pollination in the Mediterranean.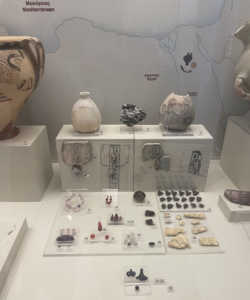 We were also able to visit the museum. It was smaller compared to the ones we've visited so far, but very well organized and curated. We were able to independently walk through the museum to look at the artifacts and document + sketch ones that stuck with us.
After the museum, we visited a place called the Treasury of Atreus, which was a large Tholos tomb, and Saul gave a site report about the monument. Again, we were reminded about how the same architecture features can show up across different regions in antiquity.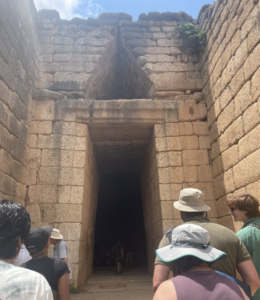 After the site visit, we boarded the bus to go the Victoria Hotel in Nafplio. Then, we were free for the day! Some students swam in the sea and others visited souvenir shops during free time.
To finish our day, we visited the Karonis Wine shop for a wine and ouzo tasting. We were able to pick up some tips about what to notice when tasting different wines and we got to try ouzo, an anise-flavored Greek drink! Today was another great day full of beautiful views and amazing cultural experiences (and cute cats and dogs) in Greece.