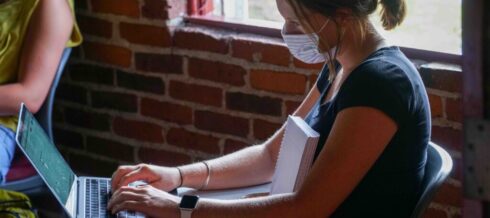 "What if we realized the best way to ensure an effective educational system is not by standardizing our curricula and tests but by standardizing the opportunities available to all students?"
― Ibram X. Kendi, How to Be an Antiracist
Denison is a very resource rich campus – e-classrooms, smart boards, projectors, moveable desks, invited speakers – the list goes on. Many faculty rely heavily on these resources to enrich their students' learning experiences. However, when my students left Denison this spring due to the lockdown, our classroom now expanded into homes, apartments, and backyards, we couldn't rely on the same resources. In many instances, the places students landed complicated their learning experience: sheltering with a community host, sheltering in a crowded apartment, sheltering with family members who needed their attention.
Instead of bemoaning our lost resources, for our final project I tried to normalize where my students were living and to leverage their environments–to resource their learning anew based off what and who surrounded them. Using narrative research methodologies, students in my Qualitative Inquiry course created an educational biography of someone they were living with or could easily contact over Zoom. My international student who was sheltering in place with a Granville host used this opportunity to connect with their host, which she shared lessened the distance between them and reduced her feeling like a burden. The student from a very large family who did not get along with her adolescent sister, learned through the project that her sister, who was also learning remotely, was suffering from mental health concerns. In addition to talking about schooling experiences, the sisters shared ways that they were coping through creative use of social media, calling her younger sister's use of the technology "sophisticated." Another student explored her parent's work with death row inmates. This led to the parent joining a class discussion on our reading of Evicted: Poverty and Profit in the American City and how it connected to the lives of the people they worked with.
Looking back, I'm reminded that Denison faculty are particularly well equipped at resourcing learning in our classrooms and that we've arrived in a moment where we have to think creatively about how to do this with expanded classrooms. What learning resources exist in students' homes? How might we recognize these as tools for learning? Kendi, who's quoted above, reminds us of the task before all teachers across educational institutions in this reality of hybrid and remote learning–to do our best to standardize opportunity.
The design of our learning opportunities that attend to the needs of our most vulnerable students, including many of our remote students, will meet the needs of all of our students. This fall I will center my teaching and design around these students, and in this way, like Kendi points out, all of my students will benefit.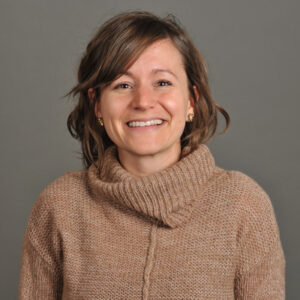 Emily Nemeth
Assistant Professor
Educational Studies/Queer Studies/Black Studies