Written by Alicia Lynch '23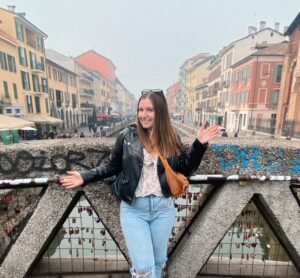 In the fall of 2021 I was fortunate enough to be awarded the Gilman Scholarship. I was set to depart to Copenhagen, Denmark that January, so I was beyond ecstatic that the Gilman scholarship could help ease some of my financial burdens. Unfortunately, Covid-19 was still rampant around the world and the Gilman Scholarship program decided to categorize Denmark as a level 3 country, meaning that Covid was still so prevalent that they did not advise anyone to travel to Denmark. This unfortunately meant that I could not use the money I received for my trip to Copenhagen. Luckily, I was still allowed and very much encouraged to use the money, but I had to find another study abroad or internship opportunity.
I had never had a summer internship before, as I usually worked as a nanny or camp counselor. I thought this could be the perfect opportunity to gain experience in a professional setting as well as strengthen my resume. While I was in Copenhagen I looked at virtual internships I could apply to, and the Gilman Scholarship program as well as Denison's off-campus study program gave me a variety of impressive choices. As a Biology major, I knew I wanted to have an internship related to either healthcare or research, and I luckily found one that incorporated a little bit of both.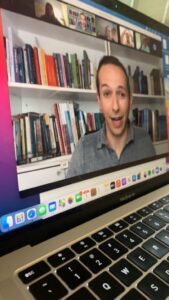 The virtual internship I chose was with Dr. Martucci, a palliative care specialist based in Reggio Emilia, Italy. Throughout my internship I would join Dr. Martucci and his colleagues in interviews, read and categorize scientific literature, and assemble powerpoints that Dr. Martucci would use it to teach his students and colleagues. It was an honor to be able to collaborate with such great minds. Besides learning about Italy's palliative care regimen, I also learned how to build connections and work with individuals from a different culture. Italy's work and educational environment focus strongly on group work, which posed a challenge when trying to communicate with individuals whose first language was not English, but also gave me an opportunity to go out of my comfort zone. I can now say I am proficient in being able to work as a team with any individuals, regardless of cultural differences or language barriers.
Overall, I am so grateful that the Gilman Scholarship was able to give me this opportunity. I learned a great deal and made connections that will last a lifetime. I would have never known a virtual internship was a possibility if it wasn't for the Gilman Scholarship. I recommend everyone studying abroad or participating in an internship to apply for this scholarship, as it has opened doors for me I never thought could be opened.