Exhibition Dates: Sept 5-Dec 12, 2016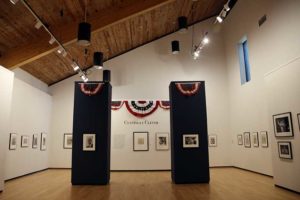 by Gabrielle Quesnell '19
Political or editorial cartoons are the embodiment of the phrase "a picture says a thousand words." Heavily dependant on caricature and dripping with sarcasm, these drawings reflect an artist's and the general public's emotional and logical response to political issues through the drawing itself and the way they're reprinted. With their opinionated, intentionally incendiary, and accessible nature, political cartoons a remarkable tool in the study of history. In the fall of 2016, the Denison Museum featured a collection of editorial cartoons from prominent cartoonist in a particularly timely exhibit entitled Cuttingly Clever.
Cuttingly Clever featured celebrated political cartoonists including Daniel Robert Fitzpatrick, Charles Henry Sykes, Rollin Kirby, John Harmon Cassel.
Daniel Robert Fitzpatrick was an active cartoonist from 1913 until 1958 . While active, his cartoons were the most widely reprinted in the country. His work was in opposition to conservative ideology and advocated for women's rights, the equality of Black Americans, and a clean environment. One of his most famous cartoons, "How Would Another Mistake Help," won a Pulitzer Prize in 1955.
Rollin Kirby was a contemporary of Fitzpatrick and the first winner of the Pulitzer Prize for editorial cartooning. He and his work championed women's suffrage, civil rights, and the New Deal. His work also condemned the KKK, imperialism, fascism, and Prohibition. In his protest of Prohibition, he created a character called Mr. Dry, a bland, traditional man who became the symbol of the era from the "wet" side of the debate. After his first win, he went on to obtain the Pulitzer Prize twice more.
Other artists included Charles Sykes, an anti-war cartoonist most heavily associated with the Philadelphia Public Ledger and Evening Ledger and John Harmon Cassel, who drew cartoons for Life, Puck, and the Brooklyn Daily Eagle.
Cuttingly Clever opened September 5, when the 2016 presidential election was rapidly approaching, promising to bring an end to a long and contentious race for the White House. It ran until December 16, about a month after Election Day when the votes were still freshly tallied.
Being so timely, the exhibit asked guests to think about how the current political climate and our response will be interpreted and remembered by posterity. How will our values reflect on us in the future? Will our response be regarded as revolutionary or shameful?
The value of editorial cartoons extends beyond the pure factual. By allowing us both to see the story that has been written and to control our own narrative, they make history come alive.
Exhibition research and text by Bianca Lee '18, Curatorial Intern.