Written by Seyeong Hanlim '23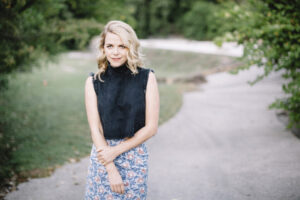 Aoife O'Donovan │Photo Credit: Richard Gilligan
Denison Vail Series Presents Grammy-Winning Artist Aoife on October 1st, 8pm EDT
Like everyone in the world right now, Denison Vail Series is pivoting to a virtual presence for its 41st annual season starting in Fall 2020. Vail Series celebrates over four decades of presenting world-class artists and ensembles to the Denison community. Although Vail Series have postponed in-person concerts for the safety of our Denison community, we will continue to celebrate the arts through virtual concerts and programs!
This year, the Vail Series opens with a virtual concert by Aoife O'Donovan on October 1st 8pm EST. Concert details and registration information are available here. According to Vail Series directors Michael Morris and Marla Krak, this virtual event and residency by Aoife O'Donovan is a prelude to her coming to Denison in Fall 2021.
For those who may not already be familiar with Aoife O'Donovan, she is a Grammy® Award-winning artist, and one of the most sought-after singers and songwriters of her generation. March 2020 brought her newest recording, Bull Frogs Croon (and Other Songs), which Paste describes as "captivating" and American Songwriter describes as "a quietly stirring collection…fraught, delicate, and soothing all at once." Aoife previously released two solo albums, In the Magic Hour and Fossils.
Recognized for her ethereal voice and substantive songwriting, Aoife O'Donovan is also known for her collaborations. Called "a vocalist of unerring instinct" by the New York Times, O'Donovan is one of the most sought after vocalists and songwriters of her generation and her career has allowed her to collaborate with some of the most eminent names in music across a wide variety of genres. Co-founder of the bands Crooked Still and I'm With Her, O'Donovan is the featured vocalist on The Goat Rodeo Sessions, the Grammy-winning album by Yo-Yo Ma, Stuart Duncan, Edgar Meyer, and Chris Thile. O'Donovan also sings in the house band on the radio variety show Live From Here.
Welcome to the Vail 2020-2021 Season
Four times per academic year, Swasey Chapel has opened its doors to students, faculty, staff, community members, and artists of the highest caliber—world leaders in musical ingenuity and innovation—as part of Denison University's Vail Concert Series. The rich cultural community fostered inside Swasey's walls represents the vision of the Vail Series, an organization that seeks to bring world-class musicians to Denison's campus and encourages interactions among visiting musicians, classes, and the larger Granville community.
International Student Experience with Vail Series
As an organization that brings artists all over the world to enhance music engagement at Denison, Vail Series is one of the most diverse programs on campus with significant international student involvement. Jenny Xiong '21, a student from China currently working as a ticketing intern for Vail Series, describes how her experience as a member of Vail Series benefits her college life at Denison a lot. She says, "One of the biggest problems for international students is college involvement; culture shock causes people with different identities to face more barriers while communicating with others outside of the classroom. With Vail, besides preparing for plentiful art projects and networking with artists, I have opportunities to chat and work with my fellow Vailians, build relationships with the local community, and get to know American culture. It's such a great and impressive experience for me!"
Another Vail Series Intern, Mello Chen '21, states that the "Vail Series is one of the best programs on campus that exposes students and faculties to a variety of musical experiences and performances that they may not have had the chance to find elsewhere, and this is the main reason which drives me to be a Vailian—to participate in the concert not only as an audience member, but as one of the background supporters to ensure everything goes well before, during and after the concert. This allows me to gain experience in working with different people either in the Vail group or in the concert."
The Vail Series embodies the mindset and goals of the liberal arts experience, as the series extends musical engagement beyond the concert stage and into the classroom, presenting these phenomenal artists and thrilling concerts to Denison students, faculty, and staff free of charge. This engagement is an essential element of a liberal arts education at Denison. The Vail Series was endowed by a generous gift from the late Mary and Foster McGaw in honor of Jeanne Vail, class of 1946. Just as it was intended to do, the Vail Series enriches the artistic experience of the entire Denison community, and is programmed creatively with the mindful pursuit of learning across traditional academic boundaries.
Read more about the Vail Series here.
Interested in Learning More?
For updates on concert information, visit vailseries.org, contact vailseries@denison.edu or contact 740-587-6557.
To receive the Vail Series' ongoing arts events publication, send an email to arts@denison.edu. Follow the Vail Series on Facebook and Instagram, and visit the Vail Series' Youtube Channel.
Michael Morris, Series Director and Ensemble-in-Residence Director
Marla Krak, Fine Arts Community Engagement and Series Assistant