Written by Casey Trimm '20
During this unpredictable time we are living in, both Denisonians studying on The Hill and Denisonians studying abroad had their semester cut short. For some, this meant booking a flight back home and leaving the United States, while for others, this meant booking a flight back home to their home country and leaving their host country. Regardless, this pandemic left Denionians both in the U.S. and abroad scrambling to return home, wherever that may be.
Vietnam
Just a few days apart from each other in March, off-campus study students Jonathan Vo '21 and Nha Le '21 returned to their respective homes. For Vo, this meant ending his abroad studies in Vietnam early and returning to his home in Boston. Le also had her abroad studies cut short as she left London and returned to her home in Vietnam where she was quarantined for 14 days. Vo, a global commerce major with a focus on Asia, had been studying in Vietnam for about a month and a half, while Le, a communication and economics double major, had been studying abroad in London for about two and half months.
Although Vo's time was cut short in Le's home country of Vietnam, he was able to take in some of Vietnam's culture through living with a host family, eating authentic Vietnamese food, and traveling to scenic spots. Vo loved just about every dish he ate in Vietnam, but he especially loved a catfish dish that his host mother would make called Cá Kho Tộ. One of his favorite places in Vietnam is the waterfalls at Đà Lạt, as he loved the adventure and refreshing nature of this site. A major cultural difference that Vo noticed during his time in Vietnam is that in Vietnam motorbike transportation is very popular, whereas most people drive cars in the U.S. Additionally, Vo noticed that there is a big emphasis on family in Vietnam, as families often eat together, spend time doing various activities, and maintain a deeper level of respect.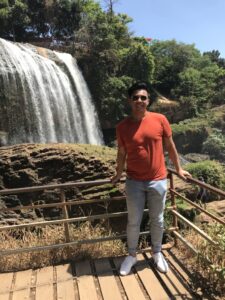 Jonathan Vo '21 in Vietnam at the beautiful waterfalls at Đà Lạt.
After studying abroad in London for about two and a half months, Le returned to her home in Vietnam during mid-March after her program in London was suspended. As a Vietnamese citizen, she was able to arrange a direct flight home from London to Ho Chi Minh City, followed by her 14-day quarantine in a military school. A native of Vietnam, Le's favorite authentic Vietnamese dish is Bún Bò Huế (spicy beef noodles). Le holds this flavorful dish near and dear to her heart as it is a traditional dish from the region that her family is from. Le's favorite places to travel in her home country are the capital city Hanoi, the historical sites at Đà Nẵng, and the imperial city of Hue. A major cultural difference that Le has observed between the U.S. and Vietnam is the idea of personal space, as Vietnamese people in general don't really consider this concept too much.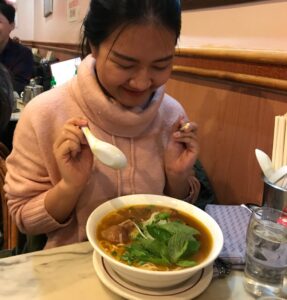 Nha Le '21 is pictured indulging in her favorite authentic Vietnamese spicy noodle dish, Bún Bò Huế.
Poland
When news of the pandemic hit, junior off-campus study student Olivia Magiera had to find her way home back to the United States from abroad. Having been in Poland for two months and traveling in Portugal, Magiera decided to purchase a direct flight back to the U.S. from Portugal in mid-March. Magiera '21 is a data analytics and economics double major who grew up in a Polish community in Chicago. Back at Denison, Polish international student Piotr Kurleto wasn't able to head home, as borders began closing and traveling back to Poland from the U.S. became too expensive. Kurleto '21 is a global commerce major with a Spanish minor from Krakow, Poland. He left Ohio to stay in Kentucky until early June when he planed to fly back home.
Growing up in a Polish community in Chicago, Magiera is well-versed in the Polish language and is familiar with Polish culture as her family is of Polish heritage. Studying abroad was an exciting time for Magiera to connect with her roots, as she had only visited Poland once before her abroad studies. Some of her favorite authentic Polish dishes are pierogies and dill pickle soup. In terms of traveling in Poland, Magiera believes that the most notable places to visit are the Tatra Mountains where people there speak a different dialect and have unique food, the colorful tourist city of Krakow, and the modern city of Warsaw. In her opinion, Poland is a country of welcoming people, beautiful weather, and historic sites. Culturally, Magiera noted that Polish people perceive work in a more relaxed manner and are better at valuing time, whereas the U.S. is much more fast-paced.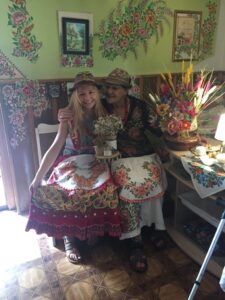 Olivia Magiera '21 is pictured with her grandmother at the small ancient village of Zalipie in south-eastern Poland.
Poland native Kurleto struggled to plan his return home once the pandemic hit, and at the time of writing this article still remained in the U.S. As an international student at Denison, Kurleto reminisced about his mother's cooking that he grew up eating, which is his favorite food back in Poland. In terms of local Polish traditional food, Kurleto said that pierogies are the best, especially during the summer when they are filled with fruit and topped with cream and sugar. Kurleto encourages visitors of Poland to venture outward into suburbs where the best Polish food is found. Poland's geographical diversity is a large part of its appeal, according to Kurleto, as Poland borders the Baltic Sea, and also has mountains, lakes, forests, and national parks. Additionally, Poland has developed into a global country with modern restaurants and sites, all the while maintaining its historically rich places. A major cultural difference that Kurleto has noticed between Poland and the U.S. is the way that cities and towns are structured, as the U.S. has much bigger roads and layouts as compared to Poland's older, generally less modernized areas.
Scotland
As off-campus study student Yi Shi '21 left her abroad experience in Scotland on March 18th, Scottish international student Leona Murray '23 arrived back home to Scotland just one day later. Having spent about two months studying abroad in Scotland, Shi arrived back home in China as Murray arrived back home in Scotland. Rising sophomore Murray is a financial economics major with a minor in mathematics from Scotland. For Murray, traveling back home during the pandemic was a very worrisome time that involved many flights until her final arrival on the 19th. Abroad student Shi experienced a similar tough journey home, as plane ticket prices were expensive, but once she arrived back in China, the staff took very good care of her during her 14-day quarantine. Shi is a biology major with minors in computer science and studio art.
Having been in Scotland for about two months, off-campus study and international student Shi experienced many new things every day. Most of the time, Shi cooked for herself as she missed Chinese food from back home, but when she didn't, she explored famous Scottish dishes including haggis and fish and chips. She encourages students abroad to venture out and eat new foods as it's definitely worth trying. While in the UK, Shi enjoyed visiting Glasgow and Edinburgh, and learned a lot about Scotland's history and architecture through visiting the Edinburgh castle. She also noted that the University of Galsgow's campus is one of the prettiest campuses she has ever seen. Her favorite class abroad was an art class where she crafted clay sculptures. Culturally, Shi's impression of Scotland and experience in other countries leads her to believe that the personalities of people from all around the world vary. Additionally, she noticed that the people in Scotland and her home country of China do not leave tips, whereas people in the U.S. do.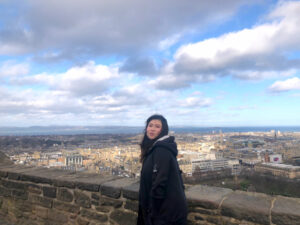 Yi Shi '21 at Edinburgh Castle, a historic fortress in Scotland's capital city.
From the small village of Elderslie in Scotland, Denison international student Murray took three flights back home to Glasgow and was relieved to finally make it. In terms of food, Murray couldn't think of too many differences between Scotland and the U.S., except for a few including steak pie and Scotland's famous fizzy drink called Irn-bru. After spending some time in America, Murray has noted several major cultural differences, including differences in the drinking age, party culture, her accent and phrases, portion sizes, and the grading systems. As a cross-country runner at Denison, Murray has found her home away from home and, after departing for him, missed the thriving community, learning opportunities, and social activities on The Hill.
Whether on The Hill or far from it, this pandemic has affected us all in different ways.
Studying and traveling abroad gives us a glimpse into the daily life and culture of unfamiliar places that some people call home. For Denison students who study abroad, as well as Denison international students who study in the U.S., they are given the opportunity to discover new places, people, and cultures different than their own. Although the Spring 2020 semester didn't play out as students expected, their global experiences are still something to be cherished as these times will not be forgotten for decades to come.