Written by Seyeong Hanlim '23
On February 12th, the annual Winterfest event with a Lunar New Year edition took place on all floors of Slayter Union. The event's activities for students included ice skating, dorm decoration making with stuffed animals and street signs, and a special dinner hosted by Asian Culture Club (ACC), Denison Asian Student Union (DASU), and University Programming Council (UPC).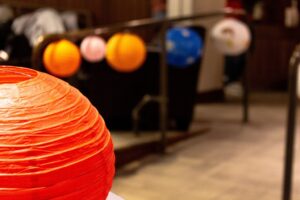 During Lunar New Year, decorated lanterns add a festive mood. Photo by Jake Gunther.
The Lunar New Year celebration period varies from year to year as it ranges from the first new moon to the first full moon under the lunar calendar, which follows the cycle of the moon phase. Also known as the Spring Festival, this event is widely celebrated in many Asian countries such as China, Korea, and Vietnam. Under the lunar zodiac, there is a cycle that repeats every 12 years, and each year is associated with a specific animal in the following order: rat, ox, tiger, rabbit, dragon, snake, horse, sheep, monkey, rooster, dog, and pig. It is said in a traditional folktale that when a god held a race for all species on Earth, these twelve showed up and passed the finish line in this order. The rat just sat on the fast-running ox's head and jumped in first when it saw the finish line, while the dog was more interested in playing around than finishing the race and the pig simply slacked off.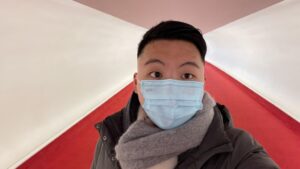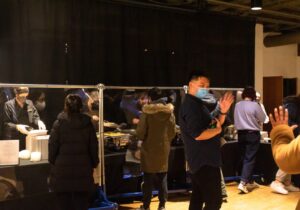 President of Asian Culture Club, Song Huang, enforces Denison COVID-19 safety guidelines while welcoming students for the special Lunar New Year dinner that took place next to The Nest on Feb 12th. Photos by Song Huang (l) and Jake Gunther (r).
Many students participated in the event, taking some time off from work and studying to enjoy Chinese cuisine and celebrate the start of another lunar calendar year. We (Center for Global Programs) interviewed the President of the Asian Culture Club, the main host of Winterfest and Lunar New Year: Song Huang, a junior from Brooklyn, NY, with a triple major in East Asian Studies, Economics, and Political Science. In his perspective, Lunar New Year is about people coming together to be appreciative of families and friends, and the most important component of this festival is food, as it symbolizes a positive aspect of one's future. Song explained that Lunar New Year has always been a campus-wide event.
Last year, ACC partnered up with Global China Connection (GCC) and Denison's Music Department for the Lunar New Year concert. This year, about 200-250 students visited the event, which makes it the biggest Lunar New Year celebration that Song recalls during the time he has been at Denison. In organizing the event, Song wanted Denison students to feel welcomed at the event, especially those who came from abroad who would otherwise be celebrating Lunar New Year with their families in their own country. While partnering organizations offered various activities to bring warmth and joy to students, Song's team prioritized health and safety over everything else, going as far as purchasing their own sanitizing equipment, maintaining social distancing rules, and enforcing foot traffic control.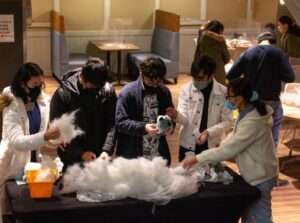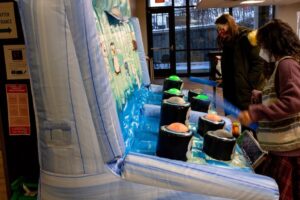 Denisonians at the Winterfest: Students playing whack-a-penguin and making stuffed animals at the Lunar New Year celebration. Photos by Jake Gunther.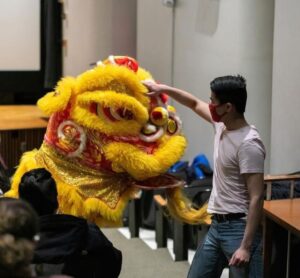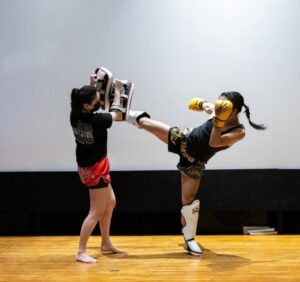 Lion dance and Muay Thai performance at Slayter auditorium. Photos by Freddie Zhu.
Denisonians abided by safety guidelines and restrictions in place to enjoy free Asian cuisine and cultural activities such as the lion dance and Muay Thai performance arranged by the Denison Asian Student Union. Suiting the cultural meaning of this event, a diverse student population came out despite an especially cold winter day, making this Spring Festival celebration successful. Remember the folktale of zodiac animals? 2021 is the year of Ox, the animal that came in second in the race because of the rat's trick at the last moment, and the Ox symbolizes trustworthiness, reliability, and kindness. We hope your start of the Lunar New Year is full of fortune and warmth!