Written by Seyeong Hanlim '22
The COVID-19 pandemic disrupted international travel on an unprecedented scale. The U.S. Department of State suspended routine visa services worldwide in March 2020 due to the pandemic. International students seeking to obtain F-1 visas to enter the U.S. found themselves stranded as embassies and consulates worldwide closed for unknown durations. Additionally, the Presidential Proclamation establishing travel restrictions for non-immigrant travelers from Brazil, China, and Iran has been in effect since January 2020 and has not yet been suspended. Students planning to travel to the U.S. from these countries, must first travel to a third country and remain there for 14 full days before traveling into the U.S.
The year 2020 was a lot of things, especially for college students navigating an academic experience during a global pandemic. For those who couldn't travel back to Denison's campus in Fall 2020, every aspect of the college experience went remote. As one of those students, last semester definitely had its perks; I now feel comfortable working with Zoom, G Suite, and Slack. However, there were also things that weren't so good– my professor's screen cutting off in the middle of a synchronous online lecture, website shutdowns just before an assignment deadline, and examinations taking place at 2 am due to time zone differences. For many international first-year students, the Denison experience was literally a Zoom experience, as many have never been on campus. This led to a lack of social connections and first-year bonding relationships that are very important in building a Denison identity. So, to make Spring 2021 better, Denison partnered with one of our off-campus study organizations, CIEE, to bring a "reverse study abroad" opportunity in Shanghai. This program offers on-site classes for Chinese students, one of the major international student populations on campus most impacted by disrupted travel and immigration services due to COVID-19.
According to Dr. Katy Crossley-Frolick, the director of the Center for Global Programs, students participating in the CIEE-Denison Semester in Shanghai program come from eight major US institutions such as Denison, Emory University, Penn State, and Syracuse University. This program runs from February 26th to June 12th, on an already existing college campus of East China Normal University, the Baoshan campus. Faculty members consist mainly of expatriates or Chinese nationals who are almost all regular faculty for pre-existing CIEE programming in Shanghai and are used to delivering course content to U.S. university students in an American style of higher education learning. On site, there are 37 Chinese Denisonians, mainly First Years who have never been on our Granville campus, who attend classes at the main academic building and reside in dormitories and rent houses in Baoshan city. There are some introductory courses offered for majors, but most are courses that fulfill many of Denison's GE requirements like Modern Chinese History (U requirement), Chinese Film and Society (A requirement), and China's Macroeconomic Impact (E requirement). Students may take a range of courses for up to 15-18 credit hours for regular letter grades and transfer credit, as on any regular Denison off-campus study program. They may also enroll in remote Denison courses, including special Writing 101 sections adjusted for time differences.
To hear about this program experience from a student perspective, I interviewed Shenjie Yu '22, a Philosophy, Politics, and Economics major and Denison's Student Ambassador on site for the Shanghai Program. During the orientation week, Shenjie helped with student arrivals, where she worked with Global China Connection (GCC) to welcome students and create activities for community bonding. She will continue to assist students throughout the semester via email, phone, and in-person office hours on campus. According to Shenjie, many professors in the program hold Ph.D. degrees from China, and their teaching style differs slightly from traditional discussion-based liberal arts college lectures. Students are able to maintain a healthy academic schedule with no time difference issues involved in taking remote classes from US campuses. Shenjie particularly enjoys her course with professor Gaga Rudic in Communications, where she can engage in significant discussions about mass media in Asia.
Many Denisonians in the program noted that the entire campus is a single academic building with limited study spaces, which makes them leave for their dorms immediately after classes. Some students mentioned that this made them feel less like they were on a college campus. However, they appreciate the social opportunities offered through this program where they can meet and work with students from other big universities. This creates a huge camaraderie among students navigating this experience together. Concerns about health and safety issues were also raised since the program does not offer an exclusive medical service and students should seek healthcare on their own, but students can reach out to emergency contacts or faculties when issues occur. Due to COVID-19 concerns, students are mandated to report their health and location status on a daily basis.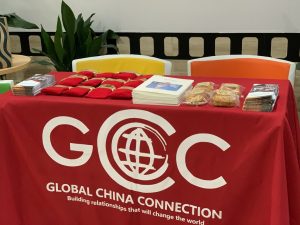 Pictures from orientation. Photos by Zhijun Ding '24.
Shenjie continues to work with GCC, Denison University, and CIEE to bring a more vibrant social scene to the Shanghai campus. There are casual community gatherings with snacks where students get to know each other and upperclassmen share their experiences being on Denison's campus in Granville with first-year students. The Denison community also promotes student-bonding events and activities outside the classroom with other universities such as Syracuse. There is funding available for events and clubs on campus, and students are currently working on campus-wide food festivals and cross-university k-pop, dance, and game clubs.
Although Shenjie misses critical and engaging lectures and small class experiences from her early years at Denison, she enjoys sharing her experiences and thoughts with students from other universities that she has met through the Shanghai program. An on-site school program helps relieve huge burdens for international students who might have struggled from immense physical exhaustion from an all-Zoom college semester. Dr. Crossley-Frolick hopes that the students can thrive academically in the Shanghai program now that the mental and physical fatigue of remote learning are resolved, and that they can establish a sense of belongingness through the social connections they build with fellow students. We hope that the Shanghai program participants and other international students who may be studying remotely this semester can come to campus in Fall 2021, and feel at home on the Denison campus. We are excited to welcome you to Granville!